Vancouver Canucks to honor Millionaires with patch, jerseys next?
Professional hockey has enjoyed more than 100 years in Vancouver and the Canucks have plans to celebrate that milestone this season.
One such tribute will include patches on the Canucks' third jerseys this season to honor the city's first pro team, the Vancouver Millionaires. The patches will be located on the front and under the right shoulder of the third jerseys, which the Canucks will wear Friday night against Chicago.
The Millionaires were the flagship team of the old Pacific Coast Hockey Association and won the Stanley Cup in 1915, becoming the westernmost team to do so. With such hockey luminaries as Frank and Lester Patrick and Fred "Cyclone" Taylor, the Millionaires played a significant role in the growth of professional hockey during its infancy.
According to a team release, the organization also announced plans to further honor Vancouver's hockey heritage "particularly in-game March 16th as the Canucks host the Detroit Red Wings." Though no details were revealed about that March 16 event, it may be safe to assume Canucks players will don the full Vancouver Millionaires uniform, as modeled by Ryan Kesler on the Canucks' Millionaires page. That, of course, would be awesome. These things, via Fort Nucks, are slick.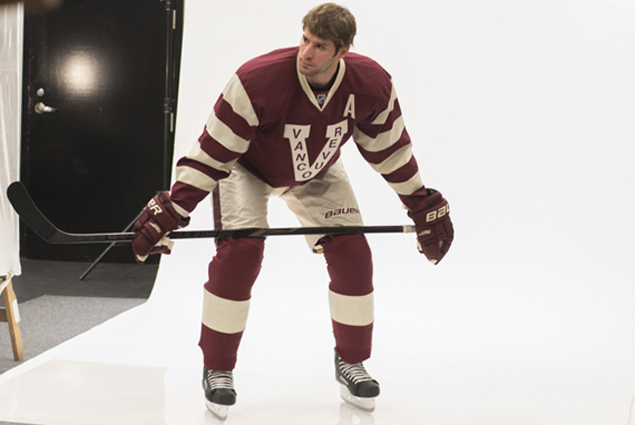 Will the Canucks be wearing these beauties on March 16? (FortNucks.com)
For more hockey news, rumors and analysis, follow @EyeOnHockey and @chrismpeters on Twitter and like us on Facebook.