CBSSports.com College Hockey Power 10 -- Week 16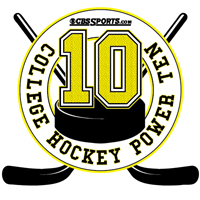 Every week here at Eye on Hockey, we'll provide the CBSSports.com College Hockey Power 10, highlighting the top teams across college hockey.
The CBSSports.com College Hockey Power 10 is a collaboration between Eye on Hockey blogger Chris Peters and CBS Sports Network Hockey analyst Dave Starman.
There are several big series throughout the country this weekend, at least the ones that won't be postponed by the monster blizzard set to hit Boston.
Most of the big games will be taking place in the West, with Minnesota meeting St. Cloud State in one of the bigger WCHA series of the entire year. North Dakota and Nebraska Omaha will have a huge series as well, with one of those games in Omaha being played outdoors.
However, perhaps the biggest of them all will take place in Kalamazoo, Mich. Western Michigan welcomes Miami for a two-game set. Depending on the results, one of these teams should be in the driver's seat to be the last regular-season champion in CCHA history. Miami leads Western by one point.
Notre Dame is still within striking distance of both, and the Irish will be on CBS Sports Network on Friday night.
Friday on CBS Sports Network: Michigan at Notre Dame -- 7:30 p.m. ET
Michigan, which has struggled mightily this year, could have turned the corner with a big sweep of rival Michigan State last weekend. That could be bad news for Notre Dame, which has been mired in a disastrous second half of the season.
The Irish need these points this weekend to stay in the hunt for a CCHA regular-season title, so this series should be better than it looks on paper.
The other great thing when these two teams hook up is the plethora of high-end talent already drafted by NHL teams. Jacob Trouba (Winnipeg) and Boo Nieves (New York Rangers) have been standout freshmen this year for Michigan despite the bad season. Meanwhile, Notre Dame counters with the junior duo of T.J. Tynan (Columbus) and Anders Lee (New York Islanders) as top prospects to watch.
Sunday on CBS Sports Network: Providence at New Hampshire -- 4 p.m. ET
New Hampshire has been a top-five team for most of the season, but the Wildcats are starting to slide. They'll have a big Hockey East matchup against Providence in hopes of keeping pace with first-place Boston College in the hunt for a regular-season title.
UNH has gotten some stellar play out of junior Kevin Goumas, who has been one of the nation's point leaders. Additionally, Trevor van Riemsdyk has been one of the nation's top producing defensemen. Casey DeSmith has struggled lately, but he's still a pretty solid goaltender and has a 2.18 goals-against average to go along with a .926 save percentage.
Providence has plenty to play for as well. The Friars sit just five points out of first place in a crowded top of the Hockey East standings. Among the players to watch for PC is Calgary's 2012 first-rounder, Mark Jankowski. The freshman has struggled to produce at a high clip but has some skills that stand out. Additionally, Calgary draft pick Jon Gillies has been a standout between the pipes for Providence while playing the vast majority of the minutes. The freshman has a 2.18 goals-against average and .927 save percentage. The future for this program is very bright.
This week's College Hockey TV Schedule (all times ET):
Friday, Feb. 8
Michigan at Notre Dame -- 7:30 p.m. (CBS Sports Network)
North Dakota at Nebraska Omaha -- 7:30 p.m. (NBC Sports Network)
Minnesota at St. Cloud State -- 8:30 p.m. (Fox College Sports)
Colorado College at Denver -- 9:30 p.m. (ROOT Sports)
Saturday, Feb. 9
UMass at Merrimack -- 4 p.m. (NESN)
Minnesota at St. Cloud State -- 8 p.m. (Fox College Sports)
Sunday, Feb. 10
Providence at New Hampshire -- 4 p.m. (CBS Sports Network)
Monday, Feb. 11
Beanpot Championship Game: Boston College vs. Northeastern -- 7:30 p.m. (NESN)
CBSSports.com College Hockey Power 10

1. Minnesota (18-4-4) -- Last Week: 1
The Gophers had a bye last week, getting a chance to rest before a big road series against St. Cloud State. Surprisingly, Minnesota trails SCSU by five points in the WCHA standings and sits tied for third place. So there's motivation for this weekend.
2. Quinnipiac (19-3-4) -- Last Week: 2
The Bobcats refuse to lose. Facing one of its tougher tests of late against Yale, Quinnipiac rolled over the Bulldogs 6-2 to stretch its unbeaten streak to 19. The Bobcats have not lost in ECAC play and lead the nation with 19 wins.
3. Boston College (16-7-2) -- Last Week: 5
The Eagles bounced back from shockingly getting swept by Maine to claim back-to-back 4-1 wins over Vermont and Harvard, respectively. BC is historically dominant in the month of February, and senior Steven Whitney has been a consistent scoring threat.
4. Miami (17-6-5) -- Last Week: 6
With a five-game winning streak going while other teams seem to be faltering, the RedHawks have thrust themselves back into the top-tier conversation. Miami has an absolutely huge road series this weekend at Western Michigan.
5. Western Michigan (17-6-5) -- Last Week: 4
Speaking of Western Michigan, the CCHA's No. 1 team has been rolling of late, too. Unbeaten in their last five, the Broncos face a statement series against Miami. Inconsistency has kept WMU from establishing itself as a top-tier team this year. A good result at home could change that.
6. New Hampshire (16-7-2)-- Last Week: 3
A top team in the first half of the season, it looks like UNH is starting to turn back into a pumpkin. UNH has lost four of its last seven, including a pair against Merrimack. The Wildcats have a favorable schedule heading into the home stretch and will have to take advantage of it.
7. North Dakota (14-8-6) -- Last Week: 9
With a win and a tie against Wisconsin at home last weekend, North Dakota heads into a crucial WCHA series with Nebraska Omaha. Saturday's game will be played outdoors in Omaha as part of the "Battles on Ice at TD Ameritrade Park." Should be a fun one.
8. St. Cloud (17-10-1) -- Last Week: 10
The Huskies are surging. Unbeaten in their last six with a sweep of Denver, a win and tie at North Dakota and sweep of Bemidji State in there, SCSU is looking stronger than ever. This weekend's series at Minnesota couldn't get any bigger for the WCHA's first-place team.
9. Denver (15-8-4) -- Last Week: NR
The WCHA was looking pretty light early in the season, but maybe that's because everyone is beating each other up in conference. After a road sweep at Minnesota Duluth, the Pioneers look back on track. Inconsistency has been the story this year, but the DU has done well in the face of a pretty tough schedule.
10. Notre Dame (16-11-1) -- Last Week: NR
The Irish are still struggling, but this looks like a team on the brink of breaking out of this midseason slide. A home series against struggling Michigan could help propel the Irish, which tied and lost to Ohio State last week.
Dropped out: Yale (13-6-3), UMass-Lowell (14-9-2)

On the cusp: Yale (13-6-3), Minnesota State (16-9-3), Nebraska Omaha (16-10-2),
UMass-Lowell (14-9-2), Boston University (13-11-2)
For more hockey news, rumors and analysis, follow @EyeOnHockey and @chrismpeterson Twitter and like us on Facebook.