CBSSports.com College Hockey Power 10 -- Week 17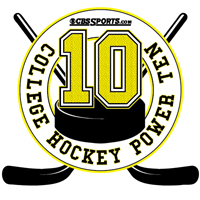 Every week here at Eye on Hockey, we'll provide the CBSSports.com College Hockey Power 10, highlighting the top teams across college hockey.
The CBSSports.com College Hockey Power 10 is a collaboration between Eye on Hockey blogger Chris Peters and CBS Sports Network Hockey analyst Dave Starman.
It hasn't been often that a team other than Minnesota or Boston College has secured the No. 1 seed on the Power 10. This is one of those rare days. Quinnipiac -- yes, Quinnipiac -- takes over the top spot.
The Bobcats are No. 1 in the polls and No. 1 in the rankings and are still riding a staggering 21-game unbeaten streak that dates to Nov. 9.
Now when you put Quinnipiac against some of the other top teams in the nation, how do they stack up? That's the big question that Dave Starman and I have. Since we're fond of the 10-team rankings, Starman put together a second list to go along with our regular ol' Power 10.
Dave, who spends pretty much every weekend in college rinks across the country, decided to make a list using the scenario of if he had to pick one team to win the one game for a national title, how would he list the top teams in the country? Here's what he came up with.
Boston College
Minnesota
Western Michigan
Miami
Notre Dame
St. Cloud State
New Hampshire
North Dakota
Quinnipiac
Minnesota State
More on each team in the Power 10 below.
Friday on CBS Sports Network: No. 12 Notre Dame at No. 3 Miami -- 7:30 p.m. ET
This one is a real treat for college hockey fans. Miami is clinging to a one-point lead for first place in the CCHA, and Notre Dame trails by just three in third place. With this being the front end of the weekend series, this is the game that both teams will hope sets the tone.
Expect a spirited battle between these two clubs as they are about to go their separate ways after this season. Miami is headed to the new National Collegiate Hockey Conference, while Notre Dame is bound for Hockey East.
These two clubs have a lot of exciting offensive players. Miami has a pair of 30-point men in sophomore Austin Czarnik and freshman Riley Barber, a Washington Capitals prospect. Notre Dame's offensive attack is led by a litany of NHL draft picks, including captain and New York Islanders prospect Anders Lee, who is pacing the club with 17 goals and 29 points. Bryan Rust (Pittsburgh) and T.J. Tynan (Columbus) each have 24 points.
This game really couldn't get much bigger this time of the year. As a side note, both of these teams will be headed to Chicago on Sunday for the Hockey City Classic to be played outdoors at Soldier Field.
This week's College Hockey TV Schedule (all times ET):
Friday, Feb. 15
Northern Michigan at Michigan State -- 6:30 p.m. (Big Ten Network)
Cornell at Dartmouth -- 7 p.m. (Fox College Sports)
Notre Dame at Miami -- 7:30 p.m. (CBS Sports Network)
Boston University at Maine -- 7:30 p.m. (NBC Sports Network)
Minnesota at Wisconsin -- 8 p.m. (Fox College Sports)
Saturday, Feb. 16
Bowling Green at Ferris State -- 5 p.m. (Fox College Sports)
Boston University at Maine -- 7 p.m. (NESN)
Northern Michigan at Michigan State -- 7:30 p.m. (Fox College Sports)
Sunday, Feb. 17
Notre Dame vs. Miami (at Soldier Field) -- 1 p.m. (Fox College Sports)
Minnesota vs. Wisconsin (at Soldier Field) -- 4:30 p.m. (Big Ten Network)
CBSSports.com College Hockey Power 10

1. Quinnipiac (21-3-4) -- Last Week: 2
The Bobcats have lost just three times this season and not since early November. Twenty-one games without a loss, and only two of those 21 were ties. Even if the quality of competition in the ECAC is a bit lower, this run is beyond ridiculous.
2. Minnesota (19-5-4) -- Last Week: 1
After a split with St. Cloud State at home, the Gophers are now tied for third in the WCHA and five points out of first. Minnesota leads the nation with 105 goals, and that offense is a big reason why this team remains one of the favorites to win it all.
3. Miami (18-7-5) -- Last Week: 4
Getting a split at Western Michigan, in a pressure-packed situation, Miami showed it still has a championship-caliber team. This weekend's series against Notre Dame will really test the RedHawks, and they'll need a good result to hold onto first place in the CCHA.
4. Boston College (17-7-2) -- Last Week: 3
The Eagles appear to be back on track with three consecutive victories, including a 6-3 win over Northeastern to claim their fourth straight Beanpot title. BC certainly has all of the pieces to defend its national title and is a battle-tested group.
5. Western Michigan (18-7-5) -- Last Week: 5
The Broncos shut out Miami 2-0 in the front end of last weekend's series but got bounced 4-0 the next night. A sweep would have given the Broncos first place in the CCHA. This team has the defense and goaltending to really make some noise this postseason.
6. St. Cloud (18-11-1) -- Last Week: 8
The Huskies are just full of surprises this year. After losing Friday at Minnesota, SCSU came right back and earned a hard-fought 4-3 win to extend its lead in the WCHA. This team has a real shot at winning the regular-season title. We'll see if the Huskies have what it takes to close.
7. New Hampshire (16-8-3)-- Last Week: 6
The Wildcats have been sputtering a bit since December. Now winless in its last three, UNH faces a huge matchup with Boston College on Sunday. A win would put the Wildcats in first place in Hockey East, but the top of the conference is awfully crowded.
8. North Dakota (16-8-6) -- Last Week: 7
On a five-game unbeaten streak, North Dakota is within striking distance of St. Cloud for the WCHA title. UND is off this week before hitting the road for a huge series at Denver. This team has a lot of pieces in place to make a big run at the end.
9. Notre Dame (18-11-1) -- Last Week: 10
The Irish have been going through an awfully ugly stretch in the second half, but a convincing sweep of Michigan might have cured what ailed them. The Irish control their own destiny with back-to-back series against the top two teams in the CCHA. The next two weeks should say a lot about what they're made of.
10. Minnesota State (18-9-3) -- Last Week: NR
A new addition to the Power 10, Minnesota State has been having an incredible year under first-year coach Mike Hastings. Coming off a sweep of Minnesota Duluth, the Mavericks sit tied for fifth in the WCHA and are six points from the top. They'll need all the points that they can get the rest of the way.
Dropped Out: Denver (15-9-5)
On the cusp: Denver (15-9-5), Yale (13-7-3), Niagara (18-5-5), UMass-Lowell (14-9-2), Boston University (13-12-1)
For more hockey news, rumors and analysis, follow @EyeOnHockey and @chrismpeters on Twitter and like us on Facebook.