NHL rumors: Charles Wang looking to sell Islanders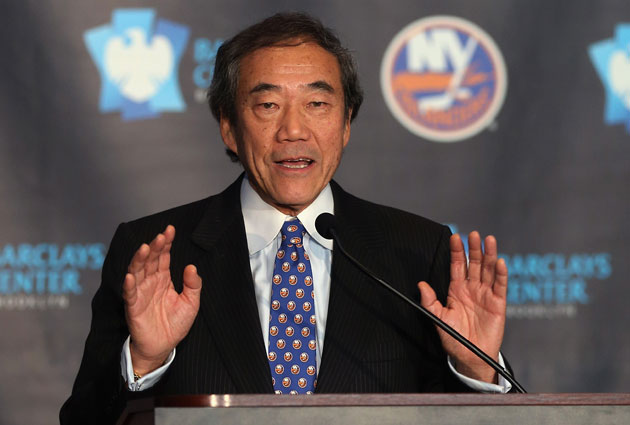 Charles Wang has been part of the ownership group of the Isles since 2000 and bought out his partner in 2004. (Getty Images)
More NHL: Scores | Standings | Odds | Fight-O-Meter | League Leaders | Rumors
The New York Islanders won't be moving but a few miles west in the coming years. Ownership of the franchise, however, could be on the move.
There have been suggestions in recent years that perhaps Islanders owner Charles Wang was considering selling the franchise, which has been a money-losing venture for years now. Now, according to Josh Kosman of the New York Post, those talks are getting going in earnest again with the team preparing to move to Brooklyn two seasons from now.
Owner Charles Wang has been in talks with The Raine Group, a Manhattan investment bank, regarding the sale of the money-losing team, two sources said.

Talks between Wang and Raine are said to be preliminary and the team owner hasn't hired Raine — so the effort could lose steam.

An Islanders spokesman said there is no truth to the story. Raine could not be reached for comment.
The report goes on to mention that the team looks very "saleable" now that it will be moving to Brooklyn and a nicer arena than where it is in Nassau County at the moment. The franchise has struggled with attendance and has been losing money. The presumption is that the attendance woes will be resolved with a move to the new Barclays Center, even if it has a small capacity for hockey.
A year ago this story might have scared the bejeezus out of Islanders fans, as the team's future was still very much in doubt. At that time the idea of selling the franchise would have sparked a lot of fears about the team being relocated, but now with the Barclays deal in place, that's not concern. Perhaps the idea of Wang selling the team will be a cause for celebration instead.
He has been part of the ownership group of the Islanders since 2000 and took on a greater role when he bought out his partner Sanjay Kumar in 2004. It's been an era marked with salary floor-residing teams, playoff droughts, Mike Milbury as a general manager and Rick DiPietro. Ushering in a new ownership group might not be the worst thing for Isles fans, to put it mildly.
It would be interesting to see what kind of money Wang could fetch for the franchise. The Islanders have been an unprofitable team for some time, but the promise of moving to one of the five boroughs of New York City and the potential for increased revenue is intriguing.
It will be a new era for the Isles when they move to Brooklyn. The question is in how many ways will that era be new?
For more hockey news, rumors and analysis, follow @EyeOnHockey and @StubitsCBS on Twitter, subscribe to our YouTube account and like us on Facebook.