CBSSports.com College Hockey Power 10 -- Week 18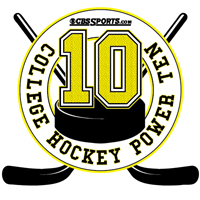 Every week here at Eye on Hockey, we'll provide the CBSSports.com College Hockey Power 10, highlighting the top teams across college hockey.
The CBSSports.com College Hockey Power 10 is a collaboration between Eye on Hockey blogger Chris Peters and CBS Sports Network Hockey analyst Dave Starman.
Seeing as this is a jam-packed week on CBS Sports Network, this part will be brief. Taking a cue from Dave Starman -- this week's list has some significant changes. This week, the Power 10 is strictly made with the national championship in mind.
Below is the list that we came up with after we debated and moved teams around based on which ones we're most confident in as national-title contenders.
Now, a look at what's on tap on CBS Sports Network this weekend.
Friday on CBS Sports Network: No. 11 Notre Dame at No. 8 Western Michigan -- 7:30 p.m. ET
Friday night's game between Notre Dame and Western Michigan is as big as it gets in the CCHA. Both teams can come out of the weekend in first place. More than that, however, is the special occasion that Friday night will bring to Kalamazoo.
Western Michigan is hosting its "Ice Duchenne" night, which helps raise awareness for Duchenne muscular dystrophy. The project is spearheaded by WMU assistant coach Rob Facca, whose 5-year-old son has been diagnosed with the disease.
The Broncos will be raffling off an autographed Steve Yzerman jersey to help raise money for CureDuchenne, the national non-profit dedicated to finding a cure for Duchenne. You can find out more here.
Saturday on CBS Sports Network: No. 5 New Hampshire at Vermont -- 4 p.m. ET
Another game with significant postseason implications. New Hampshire has a real shot at making a run at first place in Hockey East. The Wildcats will have to take care of Vermont over a weekend series to have any hope to take the top spot, however.
Kevin Goumas and Grayson Downing have been among the most potent forwards for UNH, while Trevor van Riemsdyk has proven to be one of the nation's better offensive defensemen. Goaltender Casey DeSmith was putting up ridiculous numbers earlier in the year and has maintained good marks with a 2.22 goals-against average and .925 save percentage.
Vermont, meanwhile, is riding a bit of a hot streak with three consecutive wins and four in its last five. The Catamounts have struggled to score this season, but things are starting to look up for this relatively young team. Chris McCarthy has been the leading scorer with 23 points in 28 games.
Sunday on CBS Sports Network: No. 4 Boston College at No. 17 Merrimack -- 4 p.m. ET
College hockey fans are really getting treated to a series of extra meaningful games this weekend on the Network. This one could end up being an unofficial Hockey East regular-season championship game.
Boston College boasts one of the nation's Hobey Baker front-runners in Johnny Gaudreau. He's a big-game performer and has a great supporting cast that includes Steven Whitney, who has seemingly been scoring at will this year. Bill Arnold is another solid producer for BC. The club will be without Kevin Hayes, however. The Chicago Blackhawks first-round pick has been suspended indefinitely for a violation of team rules, which puts a damper on BC's offensive lineup.
Merrimack is a team full of mostly unknown prospects, but junior Mike Collins is having a sensational season. He has 15 goals and 35 points, which is 20 more than his next closest teammate. Meanwhile, Sam Marotta has been solid between the pipes with a 2.01 goals-against average and .931 save percentage in 20 games.
This should be a highly entertaining matchup. Here's a look at what else is on tap …
This week's College Hockey TV Schedule (all times ET):
Friday, Feb. 22
New Hampshire at Vermont -- 7 p.m. (NESN)
Notre Dame at Western Michigan -- 7:30 p.m. (CBS Sports Network)
Yale at Quinnipiac -- 7:30 p.m. (NBC Sports Network)
Minnesota Duluth at Minnesota -- 8 p.m. (Fox College Sports)
North Dakota at Denver -- 10 p.m. (NBC Sports Network)
Saturday, Feb. 23
New Hampshire at Vermont -- 4 p.m. (CBS Sports Network)
Minnesota Duluth at Minnesota -- 8 p.m. (Big Ten Network)
Sunday, Feb. 24
Boston College at Merrimack -- 4 p.m. (CBS Sports Network)
Penn State at Wisconsin -- 8 p.m. (Fox College Sports)
Mon. Feb. 25
Penn State at Wisconsin -- 8:30 p.m. (Big Ten Network)
CBSSports.com College Hockey Power 10

1. Minnesota (20-6-4) -- Last Week: 2
The Gophers possess the most potent offense in the country but have also gotten sound goaltending from freshman Adam Wilcox. This team might be better built for a deep run than last year's Frozen Four squad.
2. Miami (19-8-5) -- Last Week: 3
The RedHawks have been up and down throughout the season, but a big home win against Notre Dame last week put Miami in first in the CCHA. The offense has potential to explode at any time, and the goaltending has been top notch.
3. Boston College (17-8-3) -- Last Week: 4
A stunning OT loss to Merrimack knocked the Eagles out of first place in Hockey East. They have a favorable schedule to get back on top. It all starts Sunday against -- who else? Merrimack. Should be a big one.
4. St. Cloud (18-11-1) -- Last Week: 6
The WCHA's first-place team is continually impressing this season. After getting a well-deserved break last weekend, the Huskies have Colorado College, which offers a very tough road series. Nic Dowd and Drew LeBlanc have been dynamic in leading offensive roles.
5. New Hampshire (16-8-4)-- Last Week: 7
The Wildcats are winless in their last four but earned an encouraging 4-4 tie at Boston College on Sunday. UNH has a fairly favorable schedule to close out the season with the seventh-, eighth- and ninth-place teams in Hockey East remaining on the docket.
6. North Dakota (16-8-6) -- Last Week: 8
UND was off last weekend and finds itself three points out of first place in the WCHA. There's very little separating the top teams in the conference, so every game is a must-win at this point in the quest for the WCHA's regular-season title.
7. Western Michigan (18-8-6) -- Last Week: 5
After a shocking 6-3 defeat at Ohio State last Saturday, WMU's bid for a CCHA regular-season title took a bit of a hit. With remaining games against Notre Dame and Michigan State, WMU still controls its destiny.
8. Notre Dame (19-12-1) -- Last Week: 9
The Irish are very much still alive in the CCHA title hunt, as well, trailing Miami by three points. This weekend's series at Western Michigan is huge for both teams and could be the springboard to greater success at this late stage of the year.
9. Quinnipiac (22-4-4) -- Last Week: 1
The loss to St. Lawrence last weekend halted QU's impressive streak. The Bobcats are still in the national polls. But after careful examination, neither of us thinks QU could top any of the preceding teams in a one-off for the national title. That's why they're No. 9.
10. Nebraska Omaha (18-12-2) -- Last Week: NR
The Mavericks are still in the hunt for the WCHA regular-season title, and that makes for an interesting and crucial next few weeks. Idle this weekend, the Mavericks have a series remaining against both Wisconsin and Minnesota Duluth and might need to win out.
Dropped out: Minnesota State (20-9-3)
On the cusp: Merrimack (14-10-6), Minnesota State (20-9-3), Denver (15-9-5), Wisconsin (13-10-1), UMass-Lowell (16-9-2)
For more hockey news, rumors and analysis, follow @EyeOnHockey and @chrismpeters on Twitter and like us on Facebook.