NHL realignment: With no perfect solution, NHL should wait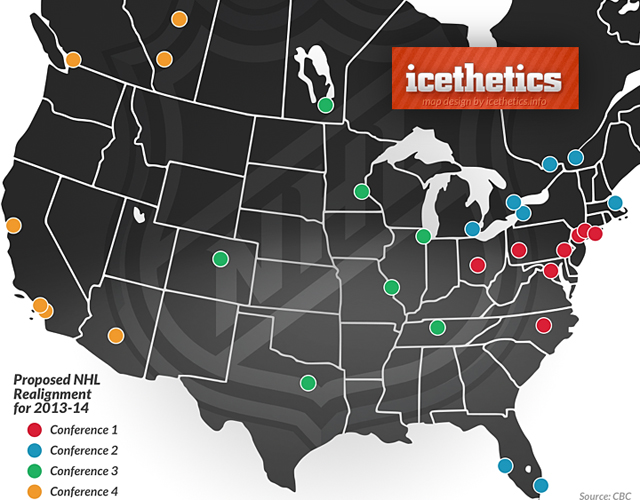 More NHL: Scores | Standings | Odds | Fight-O-Meter | League Leaders | Rumors
The NHL is learning the hard way through realignment that you can never please everybody.
There is no such thing as a perfect system out there waiting to be devised. That's unless the NHL adds two teams tomorrow and puts them both west of the Mississippi. The expansion part might happen in the coming years, but it's not going to be to two cities not in the Eastern time zone. So short of that, it's a flawed idea, no matter how you go about it.
The latest proposal the league is working on solves most of the problems from the previous plan while adding others. The one problem it didn't solve then or now is the imbalanced conferences issue. Because both Columbus and Detroit want so desperately to move to the Eastern Conference to get in line with their time zone, it's really hard to do.
That's why in the most recent proposal the league had two divisions in the Eastern conference comprised of eight teams and two in the West with seven teams, with both Columbus and Detroit getting their wish and joining their brethren in the Eastern Time Zone.
But the same issue players objected to before about uneven chances at the playoffs still exists. In December of 2011 it was the conferences/divisions in the West with eight teams apiece, this time it's in the East. It doesn't matter which conferences have the issue, it's an issue nonetheless.
To get around this, the league is apparently exploring the option of wild-card spots. Three teams from each division make the playoffs and then there are four wild cards to fill out the field of 16, two in each conference. Still, the teams in the West have a smaller field to go through to earn a berth.
As you can see, there's no perfect solution.
It's precisely why I don't understand why the NHL is doing this now. Obviously there is a need to do something -- I hope you don't need a map to know Winnipeg doesn't belong in the Southeast -- but this overhaul seems premature and unnecessary. Not to mention tough to do right.
Understanding full well that the league says it's not considering expansion -- I don't believe it for one second but for the purposes of this, I'll play along -- the NHL has an elephant still in the room. The league doesn't want the Coyotes to move out of Phoenix and seems to still be doing what it can to keep them there, but until they are sold it's a cloud hanging overhead. Why, as long as the potential for them to be moved to Quebec City or somewhere else exists, would they consider such a massive plan? It seems irresponsible.
"We have to deal now with our current realities, not with hypothetical situations in the future," NHL Deputy Commissioner Bill Daly said to Renaud Lavoie of RDS about how new locations could impact planning. "If and when we have to reconsider alignment in light of changes in franchise make-up and location we will address the relevant issues at that time."
Again, I understand this point but the fact is one of the current realities is there is a franchise with an uncertain future. Look at all the consternation it's taking to move Winnipeg into a more geographically-friendly division; you don't want to go through this again.
Why try and paint a Picasso when you could have to burn it so soon after?
Here's where I suggest they go with this. Think K.I.S.S.: Keep It Simple Stupid. Make a straight swap of Columbus for Winnipeg. There are a few issues with this, sure, but Columbus is happy because it goes East and Winnipeg is at least in a better spot by being in the Central. Obviously Detroit isn't happy in this case but one last time you make a promise that it will end soon. This time the NHL means it.
The NHL can deny until it's blue in the face but this is where expansion comes in. It already seemed a likely move before the realignment talk but now it seems all but inevitable. A nice, round 32-team league works well.
If Phoenix stays, great. Expansion teams get added to Quebec City and Markham, Ontario. If the Coyotes move, then they go to Seattle or Portland (or if they go to Quebec City before expansion then a new franchise goes to Seattle or Portland). With more teams in the East you're once again going to have some juggling to do.
There are a lot more reasons other than realignment to expand, mainly going into markets that can produce big revenue. This just happens to be another good spot to bring up why it should be coming.
Now you can do it the way the league wants, with the four-conference format. Call the conferences whatever you want -- most want to see the old Smythe, Patrick, Adams and Norris -- it doesn't make a difference. And, yes, they are true conferences, independent of one another.
To be clear, this is my proposal for the quintessential alignment after expansion:
| | |
| --- | --- |
| Conference 1 | Conference 2 |
| Carolina Hurricanes | Boston Bruins |
| Markham | Buffalo Sabres |
| New Jersey Devils | Quebec City |
| New York Islanders | Florida Panthers |
| New York Rangers | Montreal Canadiens |
| Philadelphia Flyers | Ottawa Senators |
| Pittsburgh Penguins | Tampa Bay Lightning |
| Washington Capitals | Toronto Maple Leafs |
| | |
| --- | --- |
| Conference 3 | Conference 4 |
| Chicago Blackhawks | Anaheim Ducks |
| Detroit Red Wings | Calgary Flames |
| Dallas Stars | Edmonton Oilers |
| Minnesota Wild | Los Angeles Kings |
| Nashville Predators | Phoenix/Seattle/Portland |
| St. Louis Blues | San Jose Sharks |
| Winnipeg Jets | Vancouver Canucks |
| Columbus Blue Jackets | Colorado Avalanche |
As far as the schedule goes, you play everybody outside of your conference equally, a home-and-home. For teams like Detroit and Columbus who are still with teams outside their time zone, this reduces that issue significantly. Now they will only visit the Pacific Time Zone seven times, just like every other Eastern-based team. The majority of their games will be in the East or some in the Central. That's a massive improvement. You're talking about games starting at 8 ET instead of 7 or 7:30 ET; that ain't bad.
You now have 34 games to play seven divisional opponents. It almost works perfectly but is obviously one off. It would work best if the NHL added just one more game to the schedule but seeing how that's not going to happen, you have to get creative to make that odd number work. Either way, that's a minor issue for the schedule-makers.
Hockey has a rich history of rivalries and I try my best to keep those intact here. There are better options geographically for Markham but you split the teams in the Toronto market so that more teams can come through the hockey-crazy city and there are no real good options to tear one team from the other group. Boston is tied to Montreal and the Florida teams are tied together.
Is it perfect? No, but it's getting a lot closer and would give the NHL what it apparently wants, the old conference-playoff format. You can certainly get the old-school rivalries going again and get some new ones with such frequent playoff meetings. And you could even have the potential for a Boston-New York Stanley Cup Final again, for example, as so many have clamored for.
We all know this current setup is not ideal and we can also very quickly see that any proposal the league has for the current 30-team setup is also not ideal. I'd argue they might be less ideal than the current format with Winnipeg staying exactly where it is in the Southeast; that's how much of a mess I see this proposal.
If the NHL is going to try to make its masterpiece, it would be best to wait until it can see the long-term lay of the canvas. The hope is put this into stone, not into sand.
More from Eye on Hockey
Recent proposal: Talk of divisions within conferences, wild cards
How new playoffs might work
For more hockey news, rumors and analysis, follow @EyeOnHockey and @StubitsCBS on Twitter, subscribe to our YouTube account and like us on Facebook.