Shift from grinder to scorer all about confidence for David Clarkson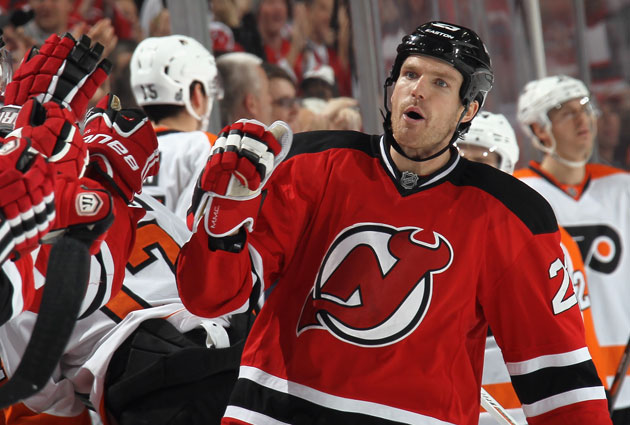 More NHL: Scores | Standings | Odds | Fight-O-Meter | League Leaders | Rumors
ARLINGTON, Va. -- On Tuesday night in his hometown of Toronto, David Clarkson was playing his 400th career game in the NHL, all with the New Jersey Devils. Not bad for an undrafted player out of Kitchener in the OHL.
In that time, he has come a long way. He has remained a Devil from the beginning, so the scenery hasn't changed. But he has. On the ice at least.
It would be a little disingenuous to say Clarkson completely reinvented himself last season, when he had a breakout campaign and netted 30 goals. He was a low-line player, but he always had some ability to score goals in the NHL. In 2008-09, he scored 17 to go with 15 assists all while averaging just 12:03 of ice time per game.
But some things have definitely changed. The guy who was seen as a low-line checking forward who had a little bit of skill to complement his game is now a top-line forward who scores big goals. Those transformations don't typically happen overnight.
While it didn't happen overnight for Clarkson, either, there clearly was a pivotal moment in his move from the bottom half of the forward lines to the top half: the day that Peter DeBoer was introduced as the coach of the New Jersey Devils before last season.
Going back to their days in Kitchener, DeBoer and Clarkson had a history. When you talk about guys like Clarkson and refer to them having histories with other guys, it's usually not a good history. But in this case, it is. The reunion of them together as coach and player led to Clarkson's breakthrough 30-goal campaign. Surely there had to be a link there.
"I think a little bit," Clarkson said during the Devils' recent trip to Washington. "He's someone that's been a big part of my hockey career. He's someone who believed in me as a kid. I wasn't drafted, so I think the season I had last season was really to do with him giving me the opportunity.
"When I get on that ice, I still have to go out there ... it's easy for him to put me over the boards but when you have somebody who believes in you it gives you a little bit of confidence. He's probably been the biggest influential person in my hockey career. I think he's been the No. 1 person through everything from when I was young to today."
There's the good kind of history. DeBoer was a very successful coach in the junior ranks before the Florida Panthers gave him a shot in the NHL. Coaching much younger players helps a coach learn how to cultivate relationships, something that's more necessary with the juniors instead of the pros. Those things can last.
Unless it's coming from a GM and about his coach, a vote of confidence is a great thing in sports. It's nice to know somebody believes in you. It's one thing to say it, though, and it's another to show it, as DeBoer has done.
"[There was] no specific conversation," DeBoer said. "I think it was more in my actions toward him and showing my belief in him. Giving him power-play time, playing him in our top six or top nine, giving him the type of minutes that a good forward deserves in the league. I think the actions bred the confidence more than any conversations we've had."
It would be unfair to Clarkson and his work ethic to say that it was just a matter of confidence that has helped him go to a new level, but he couldn't deny the relationship with DeBoer was as big a factor as anything.
"I think there's a lot of things," Clarkson said. "Every summer, you go home and try to get better. The more you play in the league, the more comfortable you get. I think all that's part of it, too, but the biggest thing is having someone who believes in you and gives you the opportunity."
That opportunity has all led to a change in the way that he is used by the Devils.
Clarkson is getting more ice time per game (17:47) than he ever has while he is fighting less. That's not to say he isn't fighting -- he has two fighting majors in 22 games this season -- but it's a far cry from when he dropped the gloves 21 times in 2007-08.
And, yes, that has been partially mandated by the coaching staff.
"He can't be fighting fourth-line guys. He can't be trying to change the momentum of a game with a fight when we're down because we need him to score a goal," DeBoer said. "I think that edge and that physical element is maybe a part of his game, but it's totally different than when he broke into the league."
That part of his game might be different, but that doesn't mean the reputation doesn't still precede him. Clarkson just looks like a menacing hockey player, like somebody who might knock your teeth out if you look at him the wrong way.
He has a history, the bad kind. He's not going to get the benefit of the doubt very often. But in a weird kind of way, that might not be such a bad thing, either, according to DeBoer.
"He's never going to lose that [reputation]," DeBoer said. "That's part of what makes him a good player -- the physical play and the reputation and the fact that guys know he's not afraid to do that. It probably gives him a little bit of extra room."
Perhaps, but I doubt DeBoer finds it to be a positive when Clarkson is called for a reputation penalty to put the Devils on the PK.
Coming into this season, there was an expectation that Clarkson was going to fall back, would regress in line with his typical, more modest production. In 22 games this season, he has 10 goals, a pace that has slowed in recent games but would surpass his career-high goal total from last season if extrapolated to an 82-game season.
In other words, he's not the same player that he used to be. Sometimes, players change in their careers; they improve. Still, Clarkson will carry around an image of a tough, grinding forward from guys like Don Cherry. Old images can be hard to shake, but it doesn't bother Clarkson one bit.
"No, no, I don't care. Don Cherry and those guys, whatever they say doesn't ... I still like playing that role as a grinder, a guy that will fight. I don't really pay any attention to what's going on except what's on the ice, trying to give everything you have every night."
So maybe you can call Clarkson a 'tweener, but, again, the good kind. He can play multiple roles on the ice and in the past two seasons has shown he can play those roles well. Not too bad for an undrafted tough guy.
For more hockey news, rumors and analysis, follow @EyeOnHockey and @StubitsCBS on Twitter, subscribe to our YouTube account and like us on Facebook.