CBSSports.com Hobey Baker Award Watch: Week 20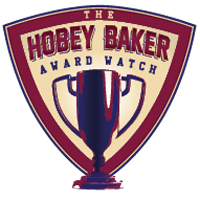 Every week this season, Eye on Hockey will be tracking the best players in college hockey as they compete for the ultimate individual prize, the Hobey Baker Memorial Award.
The Hobey Baker Watch is a collaboration between Eye on Hockey blogger Chris Peters and CBS Sports Network Hockey Analyst Dave Starman.
The last weekend of the regular season is upon us. Most years by now, there is a clear-cut Hobey Baker trio that is leading the rest of the pack. That's simply not the case this year.
Parity across the nation has made more teams competitive than in years past, and the same is perhaps true for the individuals this season.
Ryan Walters has been a front-runner for much of the second half of the season and has maintained his national scoring lead, which is going to give him an edge heading into this crucial part of the season. That said, the Hobey is not simply going to be awarded based on statistics.
A player's contributions to his team's success or in spite of a lack of success will also play a role, as does off-the-ice reputation. The player's year in school sometimes will be heavily considered. The Hobey has gone to a senior player in each of the last four seasons, and each contributed to teams that had a lot of success in their Hobey seasons.
With that in mind, Walters is still our top candidate. But his position at No. 1 isn't necessarily rock solid.
This week, Danny Kristo of North Dakota leaps to No. 2 for his major offensive contributions and overall ability. Greg Carey, who is just one off the national points lead, remains on the list this week, but there's a chance he'll get overlooked in favor of players from top NCAA tournament contenders.
Finally, Steven Whitney of Boston College this week makes our list for the first time. The senior is scoring a lot of big goals for the defending national champs despite being overshadowed for much of the season by sophomore teammate Johnny Gaudreau.
Of the guys to watch, Nick Bjugstad of Minnesota is making a late push. CBS Sports Network color analyst Dave Starman raved about his three-zone play despite lower-than-expected numbers. The two goaltenders on our list -- Erik Hartzell and Carsen Chubak -- also could figure prominently into the final race with some ridiculous numbers.
1. Ryan Walters -- Nebraska Omaha
Position: Forward
Class: Junior

Comment: With six points in his last nine games, it isn't Walters' fault the UNO Mavericks have stumbled out of the WCHA regular-season title hunt. The team's struggles, however, could impact his candidacy, especially with him facing a litany of competitors from highly-ranked schools. Walters is on the cusp of a 50-point season, which is an outstanding accomplishment. If he can help the Mavericks make a run in the WCHA playoffs, it will only bolster his already strong candidacy.
2. Danny Kristo -- North Dakota
Position: Forward
Class: Senior

Comment: While his eight-game point streak was snapped Saturday, Kristo has unquestionably been a key contributor in North Dakota going unbeaten in six of its last seven. He is tied for third in the nation with 44 points and tied for fourth with 20 goals this season. The Montreal Canadiens prospect has points in all but six games this season and has been a dependable source of spark for UND.
3. Greg Carey -- St. Lawrence
Position: Forward
Class: Junior

Comment: Carey is starting to run away with the national goal-scoring lead a little bit with 26 in 34 games. He's just one point off the national lead with 48 to his name. St. Lawrence had two losses over the weekend, pushing the Saints into a tie for fifth place in the ECAC. Carey will have to try to help SLU make some noise in the conference playoffs. Otherwise, his stat line might end up being largely dismissed by Hobey voters.
4. Steven Whitney -- Boston College
Position: Forward
Class: Senior

Comment: Though overshadowed by Johnny Gaudreau, Whitney has actually ascended to a tie for second in the national goal-scoring lead with 21. BC has sputtered in the second half, but not Whitney. He has goals in 18 of the 32 games that he has played and is a big reason why Boston College is still considered a national title threat. Though he's undersized, he gets the job done and has become a dependable asset for the Eagles. Dave Starman loves Whitney's ability to play in every situation and excel. He might be underrated, but he has launched into the Hobey discussion when no one was looking.
Others to Watch:
Corban Knight -- F -- Sr. -- North Dakota
Eric Hartzell -- G -- Sr. -- Quinnipiac
Carsen Chubak -- G -- Jr. -- Niagara
Nick Bjugstad -- F -- Jr. -- Minnesota
Erik Haula -- F -- Jr. -- Minnesota
Johnny Gaudreau -- F -- Soph. -- Boston College
For more hockey news, rumors and analysis, follow @EyeOnHockey and @chrismpeters on Twitter and like us on Facebook.