NHL Expansion: Sidney Crosby thinks NHL could handle 32 teams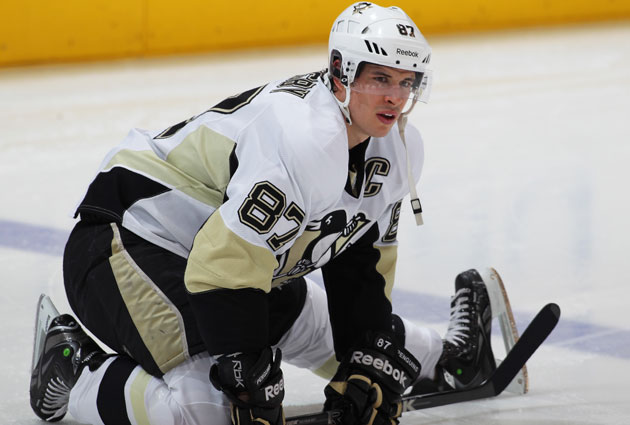 More NHL: Scores | Standings | Odds | Fight-O-Meter | League Leaders | Rumors
When the NHL announced the new realignment plan that is expected to be officially approved Monday, it became even more clear there is a future in the league, which likely includes expansion. The unbalanced conferences make it obvious and almost necessary.
The best player in the game, Sidney Crosby, is on board with it.
"It's only two more teams. I don't see it as that big an issue," the Penguins captain told Dejan Kovacevic of the Pittsburgh Tribune-Review. "The league's found a way to stay competitive with 30. It can do 32."
Hey, if the guy nobody can stay competitive with says it can be done, it can be done. But whether or not Crosby were to give his seal of approval, it's probably going to happen.
The talk of expansion has been rampant for months now with cities such as Quebec City, Markham, Ontario and Seattle trying to get in the arena game. There are multiple markets popping up as potential hosts and all of them seem like they would be good to great fits for the NHL.
Often I see fans bemoaning the NHL expanding, saying there are too many unhealthy markets as it is and the NHL doesn't need two more. Some suggest you just move teams. The problem is you can't just move teams when they are owned by somebody who wants to keep them. The Florida Panthers, for example? They have ownership that is South Florida-based; the NHL isn't going to make them move their franchise against their will. The markets that are in now are set, except Phoenix, which could be changing. Or it could not be. Who knows?
However one thing that makes the NHL different than any of the other North American major pro sports leagues is that it has a bigger market to play with. That's to say it's a sport that is truly international with big presences in the USA and Canada.
The additional Canadian markets gives the NHL more options for viable cities than its counterparts in the NFL, NBA and MLB. You could add two markets at this point like Quebec City and Markham and you'd be adding strong, healthy markets. The NHL isn't tapped out because of the greater number it has to work with.
As to the argument there isn't enough talent? Perhaps, but the talent pool is always growing, particularly with the game's growth in the United States and overseas. With a greater talent pool, the greater the overall talent. It shouldn't be too hard to find 46 more players who could play in the NHL at this point. Yes, there will be teams lacking in talent, but that's always the case. There will always be bad teams.
If the NHL does expand (we say "if" but probably mean "when") it won't be for a little while yet. While there are potential markets in Markham and Seattle, neither is ready to be granted a franchise at this point. Their arenas aren't set in stone to be built and without arenas, you don't really get teams. Other cities such as Houston, Las Vegas, Kansas City, etc., will be mentioned but they don't seem like they're in the conversation other than in passing.
For what it's worth, Crosby would welcome back the Nordiques, though.
"Quebec City is the one that sticks out for sure," he said. "I've played in Quebec. I know the city, and I know how much passion they have for hockey. And obviously, with having a team there before and the rivalry with Montreal, I think it would be awesome."
Usually hockey fans disagree with anything Crosby says, but how can you argue with the fact that it would be awesome to have the Nordiques back and battling with the Canadiens? It seems too cool to not happen, especially with an arena already in the works. Quebec City seems like a lock to get a team relatively soon; the question is if other new cities will be joining it.
For more hockey news, rumors and analysis, follow @EyeOnHockey and @StubitsCBS on Twitter, subscribe to our YouTube account and like us on Facebook.