CBSSports.com College Hockey Power 10: Week 21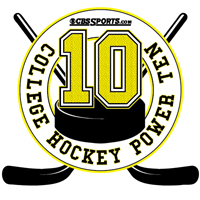 Every week here at Eye on Hockey, we'll provide the CBSSports.com College Hockey Power 10, highlighting the top teams across college hockey.
The CBSSports.com College Hockey Power 10 is a collaboration between Eye on Hockey blogger Chris Peters and CBS Sports Network Hockey analyst Dave Starman.
It's tourney time. Every conference in the country is in its end-of-season tournaments and for many teams these next two weeks are crucial. For some, it will mean the end of their season. For others, it can mean a chance to play for a national championship.
Only seven teams appear all but locked into spots in the 16-team national tournament. Conference playoff champions get automatic bids to the big dance, so it's still wide open. With how crazy this season has been throughout the country, anything can happen.
This is what college hockey is all about.
This week's College Hockey TV Schedule (all times ET):
Friday, March 15
Michigan at Western Michigan -- 6:30 p.m. (Fox Sports Detroit)
Vermont at Boston College -- 7 p.m. (NBC Sports Network)
Bemidji State at Minnesota -- 8 p.m. (Fox Sports North)
Michigan Tech at North Dakota -- 7:37 p.m. (Fox College Sports)
Saturday, March 16
New Hampshire at Providence -- 4 p.m. (NESN)
Michigan Tech at North Dakota -- 7:07 (Fox College Sports)
CBSSports.com College Hockey Power 10

1. Minnesota (24-7-5) -- Last Week: 1
Three consecutive wins to close out the season allowed the Gophers to earn a share of the WCHA title with St. Cloud State. The Gophers' best players are stepping up in a big way, and it looks like this group might be peaking at the right time.
2. Miami (22-9-5) -- Last Week: 2
A weekend off for the RedHawks means they should be well rested before taking on Michigan State at home. A trip to Joe Louis Arena for the CCHA championship is on the line. It's pretty incredible what a team this young has been able to accomplish.
3. Quinnipiac (24-5-5) -- Last Week: 4
The Bobcats also got the weekend off but will have a mighty tough test against Cornell in the ECAC playoffs. The Bobcats will hope to finish off this remarkable year on the highest note possible, which would include a trip to the ECAC finals.
4. North Dakota (19-10-7) -- Last Week: 5
A split at Minnesota State cost UND a share of the WCHA regular-season title, but they'll be happy to have home ice against Michigan Tech this weekend. UND has a very strong offensive group and has historically done well in tournaments under Dave Hakstol.
5. Boston College (20-10-4) -- Last Week: 6
A tie at Vermont cost the Eagles a share of the Hockey East regular-season title, but an emphatic 7-2 win the following night might have helped set a different tone. BC gets Vermont again in the Hockey East playoffs.
6. UMass-Lowell (22-10-2) -- Last Week: 7
It got a little dicey last weekend with a split against Providence, but Lowell's 4-1 win Saturday allowed the RiverHawks to claim the Hockey East regular-season title outright. Having won eight of its last nine, UML is rolling.
7. New Hampshire (18-9-7) -- Last Week: 3
The Wildcats' regular season ended with a bit of a thud, losing to Maine on Friday and tying on Saturday. As a result, the Wildcats lost a shot at a Hockey East title and actually have to go on the road for the first round of the Hockey East playoffs. They'll take on Providence.
8. St. Cloud (21-14-1) -- Last Week: 8
St. Cloud State's bid to win the WCHA regular-season title outright fell short with a 3-2 loss at Wisconsin on Saturday, but SCSU still got a piece of the MacNaughton Cup. This could be a very dangerous team in the playoffs.
9. Western Michigan (19-9-8) -- Last Week: 9
Hopefully the Broncos got some rest on their bye weekend because they'll need it. Previously left-for-dead Michigan is 7-2-1 in its last 10 and will bring its hot streak into Kalamazoo. The Broncos will have their hands full.
10. Notre Dame (21-12-3) -- Last Week: 10
The Irish swept Bowling Green to close out the regular season two weeks ago, and that's exactly whom they'll play in the CCHA playoffs this weekend. Notre Dame should be heavily favored, but a stumble at this stage could be disastrous.
On the cusp: Denver (19-11-5), Minnesota State (22-11-3), Providence (15-12-7), RPI (17-12-5), Wisconsin (17-12-7)
For more hockey news, rumors and analysis, follow @EyeOnHockey and @chrismpeterson Twitter and like us on Facebook.