CBSSports.com Hobey Baker Award Watch: Week 21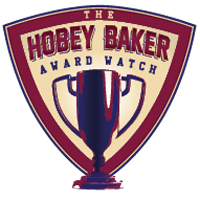 Every week this season, Eye on Hockey will be tracking the best players in college hockey as they compete for the ultimate individual prize, the Hobey Baker Memorial Award.
The Hobey Baker Watch is a collaboration between Eye on Hockey blogger Chris Peters and CBS Sports Network Hockey Analyst Dave Starman.
With all of college hockey now into conference tournaments, these are the weeks a player's Hobey Baker candidacy will be solidified. The field is still wide open with somewhere between 10-15 legitimate candidates for college hockey's top individual award.
It really could come down to how big of an impact a player has at this highly important time of the season. If a candidate is unable to finish strong, he's simply going to get passed up. That's what makes this weekend so incredibly intriguing. There's so much on the line for everyone.
Of our top candidates, Ryan Walters remains No. 1 as he's achieved 50 points this season. Greg Carey is the nation's leading scorer with 51, and he's looking like the strongest candidate from the ECAC to get a crack at the Hobey. Meanwhile, Johnny Gaudreau's seven-point weekend vaulted him right back into the thick of the race. Getting the nod this week in our No. 4 spot is a fresh face to the top four. Minnesota's Erik Haula had a strong finish to the regular season in helping the Gophers claim a share of the WCHA regular-season championship with a three-point night against Bemidji State.
Continue watching North Dakota's dynamic duo of Corban Knight and Danny Kristo, who both should figure prominently in UND's run through the postseason. Also worthy of a closer look is Kyle Flanagan, senior captain at St. Lawrence. After missing time after an appendectomy, Flanagan returned with a five-point weekend in SLU's sweep of Colgate in the ECAC playoffs. St. Cloud State's Drew LeBlanc and Boston College's Steven Whitney are both still right in it as well.
1. Ryan Walters -- Nebraska Omaha
Position: Forward
Class: Junior

Comment: With six points in his last nine games, Walters isn't the reason the UNO Mavericks have stumbled out of the WCHA regular-season title hunt. The team's struggles, however, could impact his candidacy, especially with him facing a litany of competitors from highly ranked schools. Walters is on the cusp of a 50-point season, which is an outstanding accomplishment. If he can help the Mavericks make a run in the WCHA playoffs, it will only bolster his already strong candidacy.
2. Johnny Gaudreau -- Boston College
Position: Forward
Class: Sophomore

Comment: After a rare omission last week, Gaudreau really stepped up in the final weekend of the season, particularly in a Saturday night game against Vermont. The sophomore sensation was involved in six of his team's seven goals, scoring a pair himself and adding four assists. He is back to leading the nation in points-per-game with 1.48. Gaudreau's offense has lulled a bit in the second half compared to his red-hot play in the first, but an emphatic showing to close out the regular season could be a big statement for the kid they call Johnny Hockey. The playoffs could be a big showcase.
3. Greg Carey -- St. Lawrence
Position: Forward
Class: Junior

Comment: Carey had a predictably great weekend against Colgate in St. Lawrence's sweep of Colgate in the ECAC playoffs. The junior sniper had three points on the weekend, including a pair of goals. He now has 28 tallies on the year to lead the country by four. One of the interesting stats for Carey is that he's shooting at 19 percent this season, which is pretty remarkable. The Saints have a tough test ahead against Yale to try to advance to the semis in Atlantic City. Carey could cement his spot in the Hobey Hat Trick with a strong finish in the tournament.
4. Erik Haula -- Minnesota
Position: Forward
Class: Junior

Comment: Haula has been in the "others to watch" section for months but never was quite able to crack the top four. After his outstanding play in Minnesota's march to a share of the WCHA regular-season title, he couldn't be ignored anymore. Haula has been the leading scorer for much of the season for one of the nation's top teams. He had seven points over Minnesota's last three games, all wins, and now has 46 this season. The Minnesota Wild prospect doesn't have a teammate within 10 points of his point total, and considering just how good the Gophers are offensively, that's incredibly impressive. He's in the thick of the Hobey hunt now.
Others to Watch:
Corban Knight – F – Sr. – North Dakota
Danny Kristo – F – Sr. – North Dakota
Nick Bjugstad – F – Jr. – Minnesota
Drew LeBlanc – F – Sr. – St. Cloud State
Steven Whitney – F – Sr. – Boston College
Eric Hartzell – G – Sr. -- Quinnipiac
For more hockey news, rumors and analysis, follow @EyeOnHockey and @chrismpeters on Twitter and like us on Facebook.