Penguins land Douglas Murray from Sharks for two picks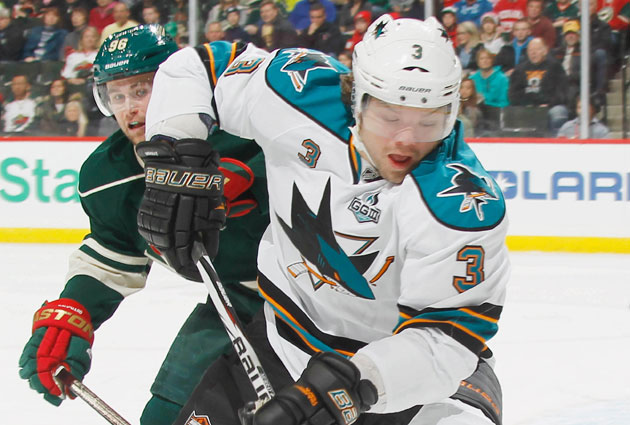 More NHL: Scores | Standings | Odds | Fight-O-Meter | League Leaders | Rumors
Not even 24 hours after acquiring Brenden Morrow from the Dallas Stars, the Pittsburgh Penguins made another trade, landing defenseman Douglas Murray from the San Jose Sharks.
The trade initially reported by Pierre LeBrun of ESPN.com, was announced on Monday afternoon. In return for Murray the Sharks receive second-round picks in 2013 and 2014.
Murray was thought to be on the block as the Sharks float around the playoff cut line. He is a free agent after this season when his $2.5 million per season contract runs out.
"We have tremendous respect for Douglas as a hockey player and a person," Sharks GM Doug Wilson said. "He has been a warrior for our hockey club for the past eight seasons and he has been in the Sharks family for the past 14 years. This deal places Douglas in a quality situation which he deserves."
The Penguins had a need for a stay-at-home defenseman, thus their acquisition of Murray. But don't expect him to be a difference-maker. He is one of the bigger hitters you'll find in the NHL, but on the defensive side he's not the most reliable shut-down guy, mostly because of his speed, or lack thereof.
Just consider this tweet from Jonathan Willis of the Edmonton Journal.
No regular #Sharks defenceman is on the ice for more shots against (rel. to ice-time) at 5v5 than Douglas Murray.

— Jonathan Willis (@JonathanWillis) March 25, 2013
Regardless, the Penguins obviously think that Murray can make a difference for them and it's pretty clear that they are gearing up for a Cup run. Plus, it's not like he is a complete liability out there. He led the Sharks in blocked shots up to this point.
With the additions of veterans Morrow and Murray on consecutive days, that message is pretty clear. The East is theirs for the taking, but you can never be strong enough. The question is, how much better are they really?
Neither Morrow nor Murray are going to be major difference-makers at this point in their careers, but they have those veteran intangibles about them. It cost the Penguins a decent amount, so clearly they think they can still get something more that has been missing from each.
From San Jose's perspective, there probably isn't a ton they're losing here. Murray has not been at his best this season, and sending him out for two future picks isn't going to be a big loss for this year's team or their chances at the playoffs. In fact, it's a great return for a player who seemed as good as gone. He is a rental player and, frankly, they had a roster in need of a shakeup anyway. Murray was a prime target to achieve those goals.
On the season, Murray has no goals and two assists (again, he's a defensive defenseman) in 29 games and has 26 penalty minutes. He is averaging 17:09 of ice time per game. The 32-year-old was drafted in the eighth round of the 1999 draft by San Jose.