Report: Coyotes relocation decision could come before playoffs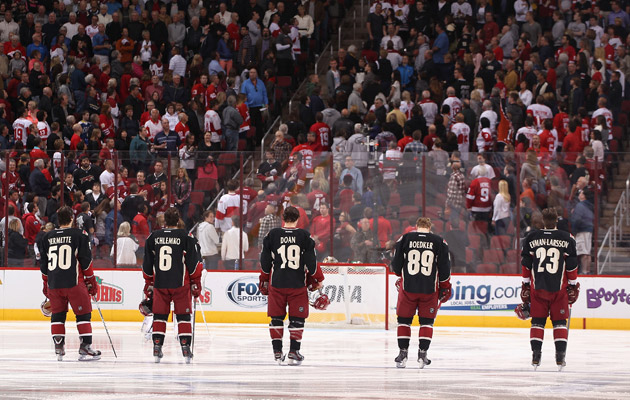 More NHL: Scores | Standings | Odds | Fight-O-Meter | League Leaders | Rumors
We've been down this road before, but it sounds like we could be close to a resolution on what's going to happen to the Phoenix Coyotes. Maybe.
TSN's Darren Dreger reported on Wednesday night that although the NHL is fighting to keep the team in Glendale, Ariz., a relocation decision could take place before the playoffs. Dreger adds that the league will continue to meet with prospective buyers but that it's clear time is beginning to run out.
The most common cities mentioned as possible destinations for the Coyotes if a move takes place are Quebec City, Seattle, and Kansas City.
Kansas City already has a relatively new building in place, while Quebec has one on the way and Seattle remains in the planning stages.
If relocation is the direction this goes, it certainly throws a wrench into the NHL's new realignment for next season.
The Coyotes have been without an owner since 2009 and have been run by the league since then.
But while the relocation reports are out there, Sportsnet's John Shannon mentioned late Wednesday that a new investment group out of Canada led by George Gosbee and Anthony LeBlanc has been in contact with the league. Their goal, according to Shannon, is to keep the team in Phoenix.