Jarome Iginla traded to Pittsburgh Penguins ... not the Boston Bruins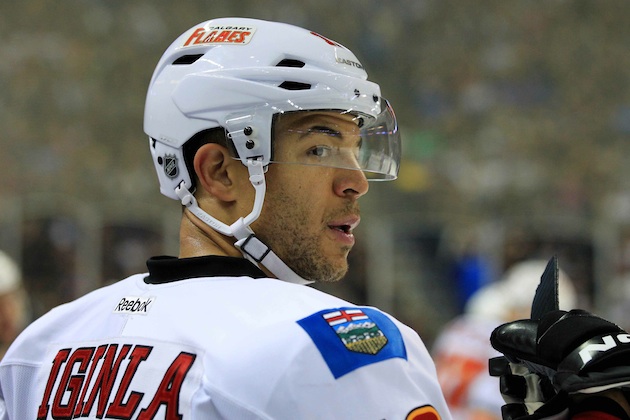 More NHL: Scores | Standings | Odds | Fight-O-Meter | League Leaders | Rumors
The Jarome Iginla era in Calgary is over. And this is a shocker. A major shocker. He's not going to the Boston Bruins after all.
After reports surfaced on Wednesday night that he was traded to Boston, the Flames announced that they have sent their long-time captain to the Pittsburgh Penguins in exchange for prospects Ben Hanowski, Ken Agostino, and a 2013 first-round draft pick.
Flames general manager Jay Feaster said he had offers from three teams but because of the no-trade clause he needed input from Iginla, and he picked Pittsburgh.
More on NHL
Analysis

The reported Boston trade had the Flames receiving prospects Alexander Khokhlachev, Matt Bartkowski, and a conditional first-round draft pick. That deal probably included better prospects (at least as far as Khokhlachev is concerned) but did not include a guaranteed pick. According to Slava Malamud of Russian outlet Sport Express Khokhlachev's agent, Alexei Dementiev, said he and his client were both shocked at the news and were expecting him to make his NHL debut with the Flames.
Mike Ziesberger of the Toronto Sun also mentioned that several Bruins players and members of the organization left the arena on Wednesday night thinking that Iginla was going to be joining them.
Everybody did (including us).
But then Pittsburgh snuck in and, for the third time in less than a week, made a huge addition to their roster and cemented themselves as the odds on Stanley Cup favorites.
Iginla, 35, is an unrestricted free agent after this season and joins a Penguins team that has gone all in over the past week having already acquired Brenden Morrow from Dallas and Douglas Murray from San Jose.
The Flames announced before Wednesday's game that Iginla would be a healthy scratch, making it the first time since the 2006-07 season that he missed a game. He finishes his Flames career as the franchise's all-time leading goal-scorer (525) and point producer (1,095) while playing in more games for the team (1,219) than any other player in team history.
He was originally a first-round pick by the Dallas Stars in 1995 and came to the Flames the exact same way he's being shipped away -- as part of a deadline deal. The Flames sent forward Joe Nieuwendyk to the Dallas Stars to help them for their playoff push.
It was arguably one of the best deadline deals in NHL history as it gave both teams exactly what they needed and wanted. Nieuwendyk was a vital part of the Stars franchise for six years and won the Conn Smythe Trophy in 1999, while Iginla became the face of the Flames franchise for more than a decade and helped guide them to the Stanley Cup Final in 2003-04.
(Note: This is an updated version of an earlier post that talked about Jarome Iginla reportedly being traded to Boston for two prospects and a conditional first-round draft pick.)