Oilers re-sign trade target Ladislav Smid for four years, $14 million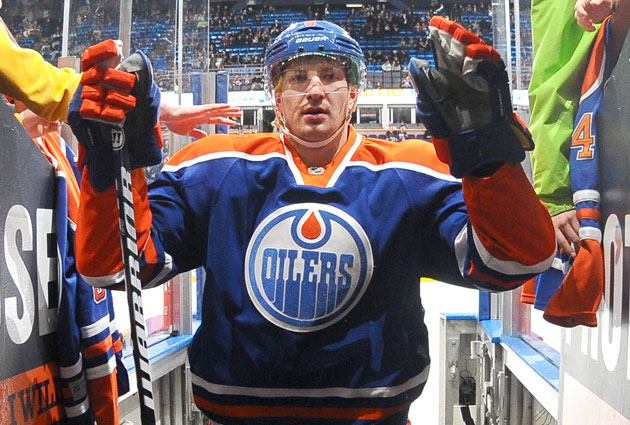 More NHL: Scores | Standings | Odds | Fight-O-Meter | League Leaders | Rumors
Edmonton Oilers defenseman Ladislav Smid had found his name mentioned as being on the block this week. Cross it off; he has a new four-year deal to stay in Edmonton.
Smid all but announced the deal himself over the weekend, telling the Edmonton Journal he would like a four- or five-year deal worth around $3.5 million per season. That's exactly what he's getting, $3.5 million per season.
Smid's name was mentioned in trades given his status as a free agent after this season, but Edmonton could use defensemen, too. They can't have an entire lineup of young guys, Smid brings them some veteran presence, not to mention he's not a liability.
To put it another way, it's a really good deal for the Oilers -- and certainly not bad for Smid, either. He might have been able to get a little more this summer as a free agent but you can't complain with that kind of money, or at least I wouldn't.
Smid's current deal that expires after this season was for two seasons at $2.25 million per season.
Smid was drafted ninth overall by the Ducks back in the 2004 draft, but has played his entire NHL career with the Oilers.
This season the 27-year-old has one goal and two assists in 34 games, but you can probably guess that offense isn't really his thing. He's physical and plays more than 20 minutes per night patrolling the blue line for Edmonton.
Smid was going to be a pretty hot commodity on this thin trade market, but he clearly wanted to stick around in Edmonton and how can you blame him? The Oilers have a pretty bright future ahead of them and now they don't have to worry about filling his spot on defense.
With Smid re-signed, you can expect that the Oilers will try to trade Ryan Whitney. Whether they succeed or not is another matter, but keeping Smid makes a trade of Whitney more plausible.