Chris Higgins re-signs with Canucks for four seasons, $10 million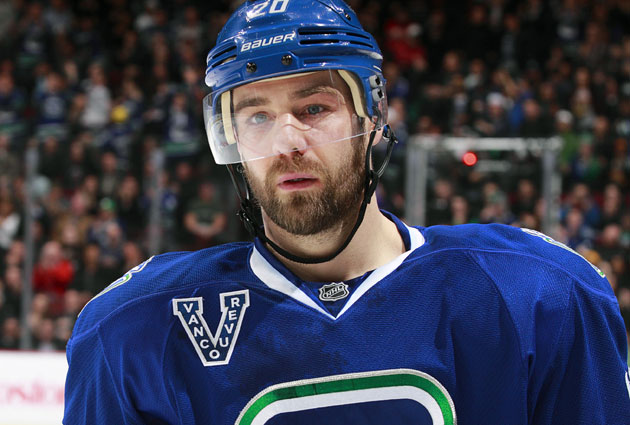 More NHL: Scores | Standings | Odds | Fight-O-Meter | League Leaders | Rumors
While GM Mike Gillis was busy acquiring Derek Roy from the Stars, he was also in the process of working on a new extension for Chris Higgins that will keep the forward in Vancouver for another four seasons.
The contract is worth $10 million over those four seasons, or $2.5 million per season. The Canucks announced the term, but the money figure comes courtesy of Hosea Cheung.
Higgins was originally drafted 14th overall by the Montreal Canadiens in the 2002 draft, and he began his career with promise, scoring a career-high 27 goals in 2007-08. Then he was hit by injuries and bounced around, hitting a low point in the 2009-10 season, when he played just 12 games and recorded three points for the Flames. The Panthers gave him a shot in 2010-11, and he resurrected his career a bit before being traded to the Canucks.
Since joining Vancouver, he has found some of that old form again, playing in a slightly diminished role for the Canucks. In 71 games last season, he had 18 goals and 43 assists, and he has played in all 35 games this season, racking up nine goals and five assists.
When they were each healthy, Higgins found himself playing with Ryan Kesler and David Booth on the Canucks' American Express line -- all three hailing from the States, naturally. This season, though, Higgins has been the only one of those three who has been able to stay on the ice.
From a cap perspective, this does tighten things up a bit more for the Canucks. According to Cap Geek, they have $62.9 million commited for next season to 15 players while the salary cap will come down to $64.3 million. As you can see, things are tight, which will only further necessitate a trade of Roberto Luongo at some point.
Given their tight crunch, the deal is pretty fair for Higgins.