Winter Classic for 2014 in Michigan to be announced on Sunday?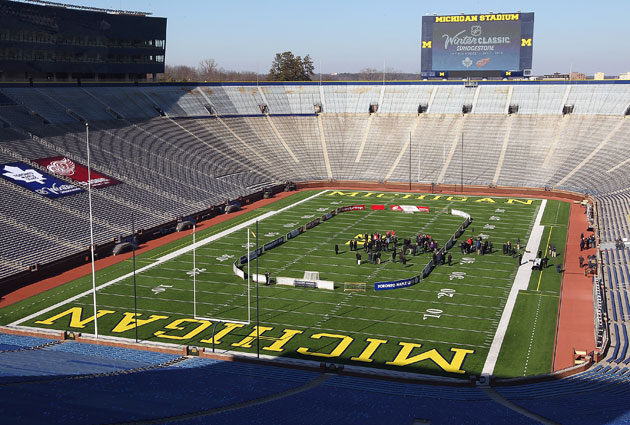 More NHL: Scores | Standings | Odds | Fight-O-Meter | League Leaders | Rumors
The NHL has announced a news conference for Sunday morning at Joe Louis Arena in Detroit. The event is described as "an announcement and a jersey unveiling."
Wonder what that could be?
Yes, the NHL is all but guaranteed to make the same announcement it had already made: that the next Winter Classic will be at the Big House at the University of Michigan between the Detroit Red Wings and Toronto Maple Leafs.
The event had been canceled due to the lockout so this was the expectation, that the Winter Classic would simply be pushed back a year. The one thing that is different than the last announcement, though, is the unveiling of jerseys. We never saw the actual jerseys they plan to wear other than some possible leaks that surfaced.
You'll recall that the plan for the 2013 Classic called for a lot of festitivies in Detroit as well and that probably won't change. In addition to the rink at the Big House in Ann Arbor the plan was to have a second rink at Comerica Park in Detroit where all the events minus the actual NHL game would take place. It was a way to give Detroit the Winter Classic while putting the spectacle in a place like Michigan Stadium and it's 110,000 seat capacity.
Another thing that will be different in 2014 is that the Leafs and Wings will once again be division rivals. That will make a difference in a slight way, helping with the production of the HBO 24/7 series. Before it was going to be tough to guarantee they would have a "prematch" to show in the series but now they certainly can.
Once fans were robbed of the NHL's premier regular-season game this year it was very disappointing, but we all knew the Winter Classic would just be delayed, not scrapped. It isn't a big leap to say that's going to be made official on Sunday.