Eric Wellwood taken to hospital after cut in AHL game (photo)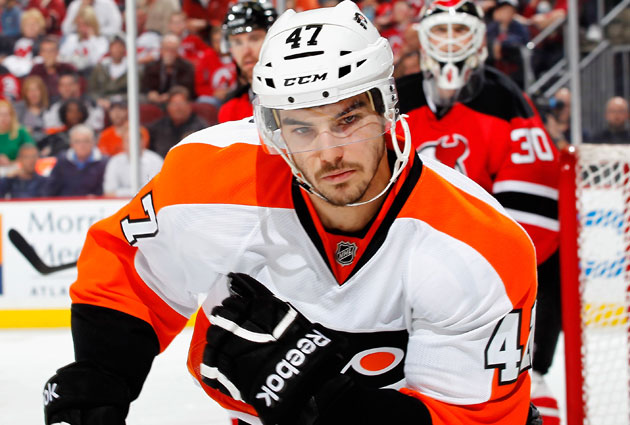 More NHL: Scores | Standings | Odds | Fight-O-Meter | League Leaders | Rumors
Scary sight -- literally -- from the AHL over the weekend as Adrindondack Phantoms (and Philadelphia Flyers) forward Eric Wellwood was sliced by a skate and was taken to the hospital.
The leg injury occured in Sunday's 4-1 loss to the Bridgeport Sound Tigers. Wellwood was taken to the hospital in Bridgeport where he underwent one surgery on Sunday night and coach Terry Murray said Wellwood could undergo a second surgery on Monday.
What happened specifically to Wellwood wasn't perfectly clear but the Glen Falls Post-Star had a little detail as to how it went down.
Though he did not see it happen, Murray believes Wellwood fell into the boards and clipped himself with his own skate during a second period penalty kill.

"I don't think anyone really saw it," Murray said. "It was away from the play. In conversation, everyone figures it was an accident that happened to himself. The play was already in the offensive zone and this happened in the neutral zone, so we're not sure exactly what took place."

Wellwood coasted from where he fell into the boards in front of the penalty box across the ice to the bench on his own. When he got to the bench, everyone saw the blood. One player said Wellwood's skate filled with blood, calling it scary.
I'd think so, especially since the Post-Star story says the severed tendon could be seen in the wound. It might not be as gruesome as the injury we saw in the NCAA tournament last week to a Louisville player, but it seems pretty close.
The aftermath was tweeted out by Wellwood's teammate, Danny Syvret. And no, this is not a prop from a horror movie, it's equipment from a hockey game.
Scary incident today. Here's to hoping Eric Wellwood and his Curt Schilling Skate recover quickly. #Phantomaniac twitter.com/DannySyvret/st…

— Danny Syvret (@DannySyvret) April 8, 2013
Wow, even Clint Malarchuk thinks that's pretty bad (warning: video is pretty gruesome).
I have always marveled at the fact that we don't have more crazy accidents like this in hockey. Apparently that run of good luck is coming to an end this season. At the NHL level we saw Zach Redmond get sliced open by a skate and the scar that left behind. We also saw Erik Karlsson have his season end when his Achilles tendon was severed by a skate.
Reminder: It's not just flying fists, high sticks, big checks and flying chunks of vulcanized rubber these guys have to worry about. They're also pretty much skating around with knives on their feet.