Devils' hopes diminishing as Martin Brodeur stuck on 666 wins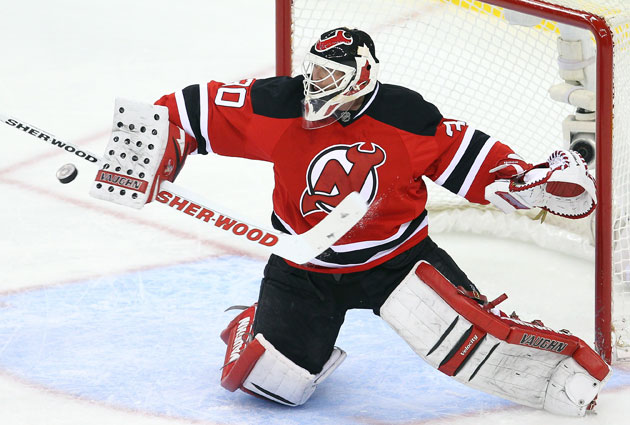 More NHL: Scores | Standings | Odds | Fight-O-Meter | League Leaders | Rumors
Nine games ago, New Jersey Devils goaltender Martin Brodeur won the 666th game of his career, at the time a neat little fact. Devils, 666 ... you get it.
Now it's starting to look a lot more than a neat little fact. Now it's starting to look like an awful omen.
Since Brodeur picked up that win, the Devils have not won. Not one single game. He still has 666 career wins as the Devils are heading in the wrong direction in a hurry.
More important than that little bit of happenstance is the fact that the Devils are pretty much done. The reigning Eastern Conference champs are now four points back of the Rangers and Jets for eighth in the East and have only seven games left. It's not impossible to ask them to come back but the odds are awfully long at this point.
Especially if they can't win the game to end this skid.
It looked like it might come on Friday night. The Senators have struggled almost as much as the Devils lately. They snapped their own five-game losing streak a couple of nights ago to get back on track but they still didn't look to be quite on their game in New Jersey. Well everybody except for Craig Anderson, that is.
The Devils dominated the game. They outshot the Senators by a whopping 33-11 margin and still lost 2-0. It's tough to lose a game when you only allow 11 shots on goal and have triple the amount of shots as your opponent, but that's the way it goes.
It's been going that way too long for the Devils. They don't score enough, an issue that wasn't just restricted to Friday night. Considering they were shut out, they remained in the basement of the Eastern Conference in the goals-for category, scoring only 96 goals in 41 games. That's just not going to get it done.
We can safely say that Ilya Kovalchuk has been missed. Kovalchuk has not played since March 23 against Florida because of injury. It's probably not coincidental that was also the Devils' last win. We knew his absense would be big for the Devils, but we didn't know it would be a death blow.
They miss him on the offensive side, sure, but the defense has gone backward since he has been out. Kovalchuk isn't known as a defensive stalwart but he has improved dramatically. While we can't say for sure the increase in goals against is directly correlated to Kovalchuk's absense, it doesn't help.
In other words, Kovalchuk's injury has played a bigger role than an ominous win total for Brodeur. But seeing as how this is pro sports we're talking about and athletes are more superstitious than gamblers in a casino, it's only a matter of time before we start talking about the Devil curse.
No matter the culprit for the skid, the result is that it has most likely ended the Devils' season unless they can get a gift from heaven in the final two weeks.
S/t to @HartnettHockey