Jimmy Howard signs six-year contract with Red Wings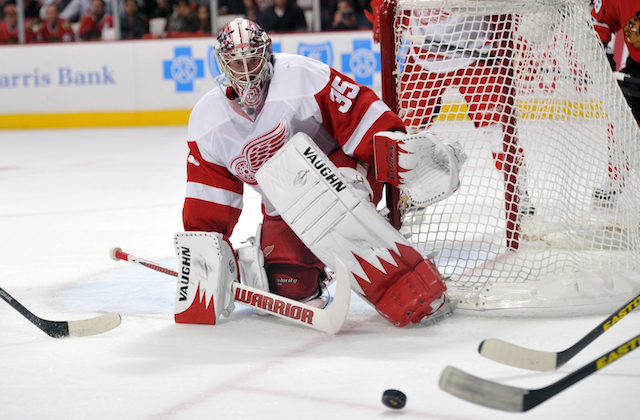 Jimmy Howard said last week that he and the Red Wings were very close to a new contract extension, and on Tuesday the two sides made it official.
The Red Wings announced that Howard has signed a six-year contract extension. The team did not release financial terms of the deal, but it's worth a reported $31.8 million, which comes out to an annual salary cap hit of $5.3 million per season.
"Jimmy is one of our most valuable players who is entering the prime of his career," Red Wings general manager Ken Holland said. "He gives us a chance to win every night. He's worked hard and become better every year."
Howard, 29, was originally a second-round draft pick (No. 64 overall) by the Red Wings back in 2003 and has been the team's starting goaltender since 2009. He's become one of the better goalies in the league, and his .920 save percentage this season is the third time in the past four years that he's posted a save percentage that high.
Six years is a long contract for a goalie (he's one of only 10 goalies in the NHL to currently have a deal of at least six years in length) and can be a little risky given how unpredictable the position sometimes is, especially for guys approaching their 30th birthday.
The $5.3 million cap hit is the 10th largest in the NHL among goalies.
As Brian Stubits pointed out last week, it's a bit of a departure from Holland's previous strategy when it comes to goalies; the team rarely spent big money on the position on his watch. Consider the quote he made several years back when talking about the structure of his Stanley Cup winning team in 2008: "My feeling is if you can get one of the five or six best goalies in the league, you can spend the money. We can't get into those guys, and the difference between the eighth goalie in the league and the 15th goalie, it's a big difference in money. It's not a big difference in performance."
Based on the way he's played over the past four years, Howard probably isn't that far away from being in the top five at the moment. Since the start of the 2009-10 season, his save percentage of .918 is ninth best in the NHL over that time, and the list of players ahead of him includes Tim Thomas (who is no longer in the NHL), Tomas Vokoun (who is now a backup and probably not quite as good as he used to be), and two goaltenders whose best are probably behind them in Ryan Miller and Roberto Luongo.
Had Howard not been signed to a new contract, he would have been eligible for unrestricted free agency this summer.