Flyers GM: No basis to Ilya Bryzgalov buyout speculation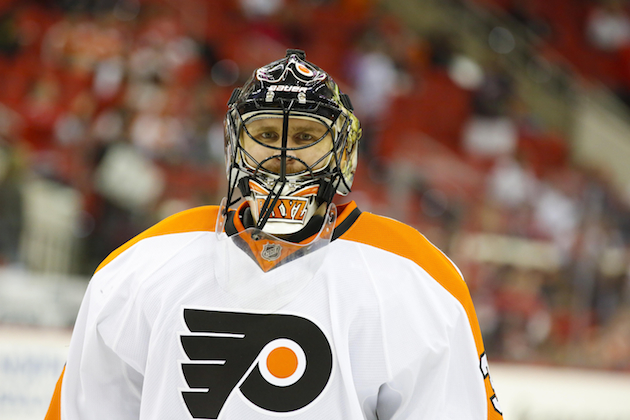 More NHL: Scores | Standings | Odds | Fight-O-Meter | League Leaders | Rumors
The Philadelphia Flyers are not used to missing the playoffs.
The 2013 season, one that has had to be one of the more disappointing seasons in team history, is just the second time since 1994 the franchise has fallen short.
What the team and its fans are used to is uncertainty when it comes to the team's starting goalie. So in that sense, it seems to be business as usual in Philadelphia.
After a second straight disappointing season from their starting goalie, there's been a lot of talk recently that Ilya Bryzgalov could be a candidate for one of the team's compliance buyouts after this season. It's a discussion that Bryzgalov has wanted no part of.
Flyers general manager Paul Holmgren attempted to put an end to that speculation on Monday in an interview with ESPN's Pierre LeBrun.
To be clear, I asked Holmgren if there was any basis at all to the speculation of a Bryzgalov buyout.

"No," he said.
Well, that's pretty much getting right to the point.
Bryzgalov is currently in the second year of a massive nine-year, $51 million contract that he signed after being acquired by the Flyers before last season. To say that it hasn't worked out would be a rather large understatement. Since the start of the 2011-12 season, Bryzgalov ranks 44th out of 53 goaltenders with a minimum of 30 games played in save percentage, and his numbers actually regressed this season.
It wouldn't be fair to put all of the blame on Bryzgalov as the defense in front of him has been dismantled in recent years due in large part to the loss of Matt Carle in free agency and what was basically a career-ending injury to Chris Pronger. But Bryzgalov hasn't exactly been great. Making matters worse this season is the fact that the Flyers didn't have a reliable backup after trading Sergei Bobrovsky (now a Vezina Trophy front runner for the Columbus Blue Jackets) and essentially had to run Bryzgalov into the ground because they had nobody else they could trust to play ahead of him.
The Flyers attempted to correct that at the deadline by trading for Steve Mason (one of the few goalies who has actually posted worse numbers than Bryzgalov since the start of last season). Holmgren told LeBrun that was simply a matter of him trying to strengthen their depth at the position and not trying to find a replacement for Bryzgalov.
This all comes just a few weeks after team owner Ed Snider gave both Bryzgalov and Holmgren votes of confidence.
Based on that, and Holmgren's denial on Monday, it seems like there's a very good chance Bryzgalov will be back in Philadelphia next season.