Jay-Z reportedly interested in representing Seth Jones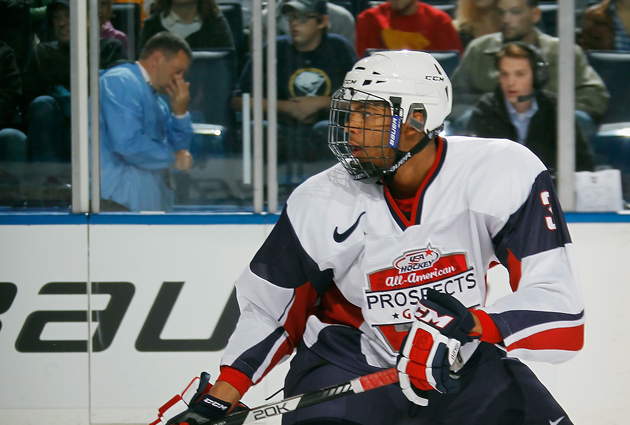 More NHL: Scores | Standings | Odds | Fight-O-Meter | League Leaders | Rumors
The Seth Jones hype machine is just getting started.
Jones, the frontrunner to be the No. 1 overall pick in this summer's NHL draft, is reportedly being targeted by Jay-Z to be represented under his Roc Nation Sports banner according to the New York Post.
Jones is the son of former NBA player -- and current Brooklyn Nets assistant coach -- Popeye Jones. He's currently represented by Pat Brisson of Creative Artists Agency, which is conveniently enough already in a partnership with Roc Nation.
More from the Post:
Sources said Jay-Z's organization wants to strike a deal to be involved in the star's marketing and branding, reports The Post's Kirsten Fleming. Jones would then benefit from both sides of the CAA and Roc Nation partnership. "When Seth comes to the NHL draft [in Newark, NJ] in June, his family, agents at CAA and Roc Nation are going to have a powwow to see if he'll sign with them," a source said.
Brisson told TSN on Wednesday afternoon that "CAA Sports is proud to represent Seth Jones in all of his on and off the ice endeavors, spearheading all contract negotiations and marketing on his behalf. We are always looking to access all of the resources and relationships across the agency to bring new opportunities to our clients. Roc Nation and CAA Sports have recently announced a relationship which could be beneficial to our athletes."
So the wheels seem to be in motion to some degree already, it would seem. Nobody's denying it, anyway.
Jones was at the top of Central Scouting's North American skater rankings (he was also at the top of our Chris Peters' big board back in January). In 61 games with the Portland Winterhawks of the Western Hockey League this season he scored 14 goals to go with 42 assists.
If this happens it can only be a good thing for Jones and the NHL.
We always complain about how the league does a horrible job marketing its stars and its game (and that's because it does) and if the NHL won't properly do it, you can be pretty sure Jay-Z probably will.
Or at least do a better job.
And Jones is a potential star in the making. He's so good, in fact, the Florida Panthers, a team that hasn't even won the draft lottery yet and may not even get a chance to select him, starting talking about how great he would look in a Panthers uniform on Tuesday before their current season even came to a close.