Chicago Blackhawks win Presidents' Trophy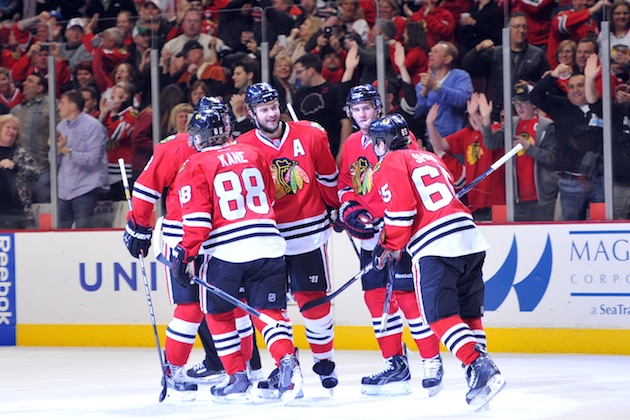 More NHL: Scores | Standings | Odds | Fight-O-Meter | League Leaders | Rumors
Thanks to their 4-1 win over the Edmonton Oilers on Wednesday the Chicago Blackhawks clinched the best record in the NHL for the 2013 season and won the Presidents' Trophy for the second time in franchise history.
The 1990-91 Blackhawks also won the award with a league-best 49-23-8 record.
The Blackhawks have been at the top of the NHL standings from pretty much the start of the season and would have needed a pretty incredible slump to lose their grip on the best record thanks to their ability to gain at least a point in their first 24 games, starting the season with a 21-0-3 record.
They haven't really slowed down much since then as their .681 points percentage over the past 22 games would still be the fourth best mark in the NHL this season.
Of course, having the best record in the regular season is no guarantee for success in the postseason. At least not recently. The last team to win the Presidents' Trophy and the Stanley Cup was the 2007-08 Detroit Red Wings, while four of the past seven Presidents' winners have lost in the first round, including three of the past four (last year's Canucks, the 2009-10 Capitals, and the 2008-09 Sharks).
That's not to say it's a bad thing to finish with the best record in the league, it just hasn't worked out for those teams over the past few years.
By securing the top seed in the Western Conference the Blackhawks will face the No. 8 seed in the opening round, which could be either Minnesota, Detroit, Columbus, or Dallas. Detroit seems like the best team that would have a chance at upsetting the Blackhawks in a best-of-seven series.