Sidney Crosby practices, shows Penguins' scary potential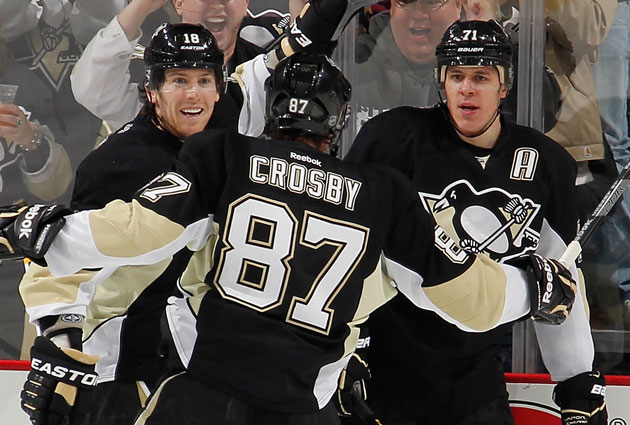 More NHL: Scores | Standings | Odds | Fight-O-Meter | League Leaders | Rumors
Sidney Crosby was back at practice with his Penguins teammates on Friday after getting clearance, and what we saw was scary.
Not that Crosby had any setbacks. All was fine there, though he still won't play Saturday vs. Carolina in the Pens' regular-season finale.
"[Returning] is not really up to me," Crosby said. "I'll just keep talking with the doctors. It's something they have to feel comfortable with the healing. As soon as they say the word, I'll be ready to go."
What was so scary was seeing the power-play unit that the Pens were practicing with. Scary for the rest of the NHL, that is.
Penguins practicing a power-play unit of Crosby, Malkin, Neal, Letang and Iginla.

— Seth Rorabaugh (@emptynetters) April 26, 2013
Oh, is that the best you can do, Pittsburgh? It's only four guys who have scored 40 goals or more in one season and arguably the best power-play quarterback in the NHL in Kris Letang.
We knew after the Penguins acquired Jarome Iginla that this was possible, but it's still eye-popping to see on paper. The idea is that it will be just as eye-popping on the ice. Before this group has even played together, the Pens already have the league's second-best power play at a 24-percent conversion rate.
Some will suggest that with that kind of talent, you might as well share the wealth and make a second power-play unit that is a little more balanced. Never mind that they still have Chris Kunitz, Jussi Jokinen, Pascal Dupuis and Brenden Morrow who can make a second unit -- you might not even need it often. With that initial quintet, you imagine they might be kind of effective at scoring.
Word to the wise for Penguins opponents in the playoffs when they are back up and completely healthy; stay out of the box.
As for the regular lines, it appears the Penguins are going to have Malkin centering Kunitz and Neal, a line that worked well last season, while Crosby would likely center Iginla and Dupuis.