Stanley Cup odds: Penguins favored to win Stanley Cup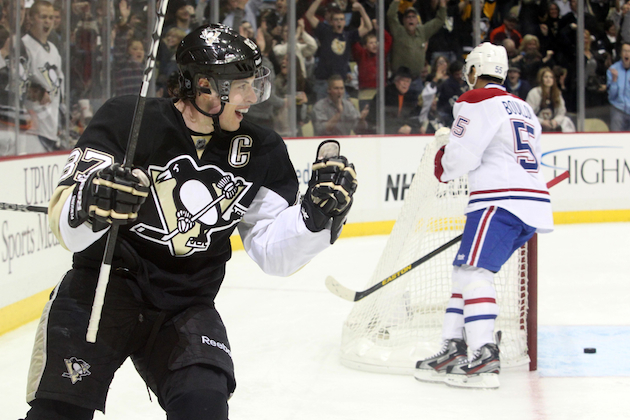 More NHL Playoffs: Scores | TV Schedule | Expert Picks | Odds | Mock Draft | Rumors
Bovada has released its odds for which team will take home the Stanley Cup this year, and here they are.
Just a few observations before we start:
The Islanders are given no shot to win the Cup this year.
The Red Wings have the longest odds to win the Western Conference despite usually being a favorite to win the Cup. Even the Wild have a better shot of winning and they're going up against the Presidents' Trophy winning Blackhawks in the first round.
The Sharks and Blues could present good value at 16/1 and 14/1 respectively.
Odds to win the 2013 Stanley Cup
Pittsburgh Penguins 7/2
Chicago Blackhawks 15/4
Boston Bruins 17/2
Anaheim Ducks 12/1
Montreal Canadiens 12/1
Los Angeles Kings 14/1
St. Louis Blues 14/1
Vancouver Canucks 14/1
San Jose Sharks 16/1
Washington Capitals 16/1
New York Rangers 18/1
Toronto Maple Leafs 20/1
Minnesota Wild 22/1
Detroit Red Wings 28/1
Ottawa Senators 28/1
New York Islanders 40/1
Odds to win the 2013 NHL Eastern Conference
Pittsburgh Penguins 3/2
Boston Bruins 4/1
Montreal Canadiens 11/2
Washington Capitals 8/1
New York Rangers 17/2
Toronto Maple Leafs 12/1
Ottawa Senators 14/1
New York Islanders 18/1
Odds to win the 2013 NHL Western Conference
Chicago Blackhawks 7/4
Anaheim Ducks 11/2
Vancouver Canucks 13/2
St. Louis Blues 7/1
Los Angeles Kings 15/2
San Jose Sharks 8/1
Minnesota Wild 10/1
Detroit Red Wings 14/1