NHL Awards: Crosby, Ovechkin, St. Louis finalists for Ted Lindsay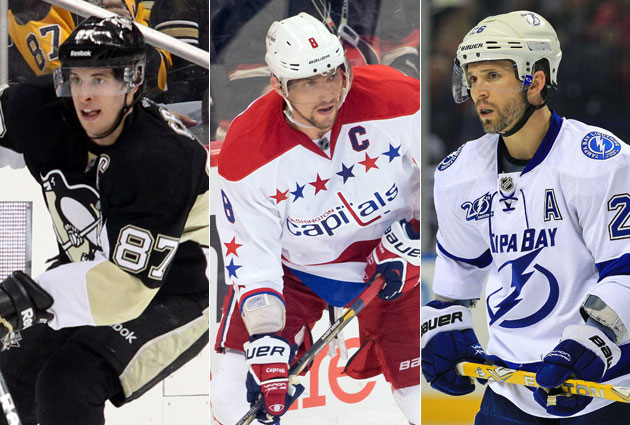 More NHL Playoffs: Scores | TV Schedule | Expert Picks | Odds | Mock Draft | Rumors
On Thursday morning, the three finalists for the Ted Lindsay Award, given to the NHL's Most Outstanding Player, were announced by the NHL. The finalists, as voted on by the players, are Sidney Crosby, Alex Ovechkin and Martin St. Louis.
As with all the other awards this season, the winner will be named during the Stanley Cup Final.
Crosby makes this list despite playing only 36 of 48 games this season for the Penguins. He still finished tied for third place in the league in points -- with Ovechkin at 56 -- a rather remarkable feat given the month missed. With his 15 goals and 41 assists, he blew away the field in points per game with a 1.56.
Ovechkin had a slow start to the season as he adjusted to a new coach in Adam Oates and a new position on the right wing for the Capitals. But once he got going, boy, did he ever get going. Ovechkin was the hottest player in the NHL in the second half of the season, finishing on a torrid pace to take the Rocket Richard Trophy as the league's leading goal scorer with 32. Ovechkin has actually won the Lindsay three times already.
Then there's the old man in the group, St. Louis. All he did was lead the league in points this season despite being 38 years old and playing for one of the league's worst teams in Tampa Bay. It surely helped playing with Steven Stamkos, but his 60 points led the field for his second Art Ross Trophy.
Before the claims of East Coast bias step in, remember, this is a players-voted award. They decide who wins it. Fact is, the Eastern Conference is the higher-scoring conference, the individual awards that favor offense tend to go there not because of biases but because they simply put up more offensive stats. The same applies here.
Remember, this award is different than the Hart Trophy. This is given to the most outstanding, not the most valuable. With that in mind, I can't foresee a situation in which Crosby doesn't win. If he hadn't taken a puck to the face that broke his jaw, he would have been so far ahead of the field in points it would have been laughable. Even those fans who hate Crosby have to recognize he is the best individual player in the NHL. This season showed that once again.