Plane troubles keep Bruins in Toronto before Monday's Game 7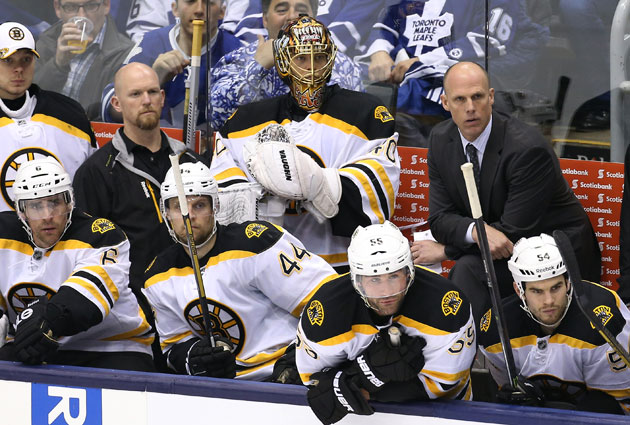 More NHL Playoffs: Scores | TV Schedule | Expert Picks | Odds | Mock Draft | Rumors
The Bruins' night went from bad to worse after on Sunday night after their 2-1 loss in Toronto to bring about a Game 7 on Monday night in Boston. They're stuck in Toronto for the night.
As you'd expect, the Bruins were scheduled to leave Toronto to return home shortly after the game. Unfortuantely for them, they were grounded due to plane troubles. Here is the statement issued by GM Peter Chiarelli.
"Late during tonight's game we were made aware that there was a malfunction with our airplane. As a result we are staying in Toronto on Sunday night and the team will travel to Boston on Monday morning."
Normally it wouldn't be that big of an issue but there is no day off between Game 6 and Game 7. They face off at 7 ET on Monday night at TD Garden. Though weird travel schedules have been more common this season with the compressed schedule so it shouldn't throw them off too much, they have experienced this before this season.
However this delay probably will make it a little harder for the Bruins to put this game behind them quickly and move on for Game 7. Players have routines but being stuck in Toronto will alter their plans on Monday while the Leafs await in Boston.
Any way you slice it, it's a really bad break for the Bruins. The turnover to Game 7 was going to be tough enough, now the Bruins will be flying back the day of the game.
It could get worse. Would anybody be surprised if the fans in Toronto pulled a stunt outside the Bruins hotel like these Swedish soccer fans did last year?