Jean-Sebastien Giguere helps make Stanley Cup wish come true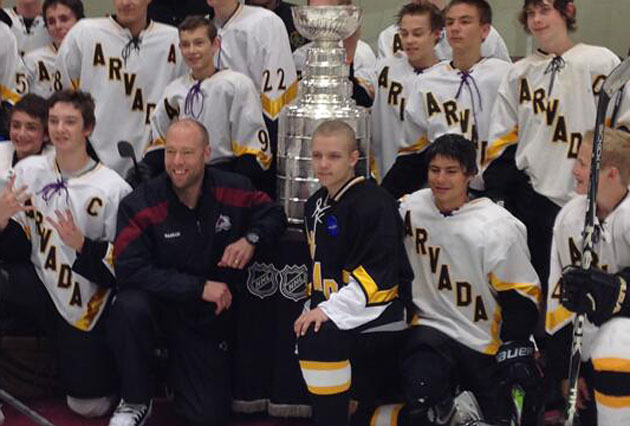 More NHL Playoffs: Scores | TV Schedule | Expert Picks | Odds | Mock Draft | Rumors
Colorado Avalanche goalie Jean-Sebastien Giguere helped make the wish of a young Colorado teenager come true on Wednesday with a surprise visit.
Thirteen-year-old Logan Piz from Arvada, Colo., near Denver is being treated for Ewing's Sarcoma, a form of bone cancer that primarily affects children and adolescents. It was his wish to be able to spend a day with the Stanley Cup, the holy grail of sports trophies. Thanks to the NHL, Discover and the Make-a-Wish Foundation, he was able to do that on Wednesday.
"To me, the Stanley Cup is every basement hockey tournament, where every goal is with three seconds left. He Shoots! He Scores! For me, it's my hometown of Arvada, Colorado. For me, it's everyone here, who has supported me so much, and I am blessed to have all of that," Logan said.
Little did he know he was going to get a bit more than a day with the Cup. Well, Logan didn't even know he was going to get that much. He was surprised at Denver's Rocky Mountain Hospital for Children by Lord Stanley's chalice. He shared the experience with everybody at the hospital -- his family, doctors, nurses and other patients.
His day wasn't done there, though. Logan and the Cup headed to the local rink, where his teammates were waiting for him. In a day that already featured one great surprise came another: Logan's favorite player, Giguere, was also at the rink.
"He didn't know the Cup was going to be here, and he didn't know I was going to be here, either. I think it was a complete surprise," Giguere told CBSSports.com. "He has such a big heart because all he wanted to do was share it with the rest of the community. There were tons of people, about 500 or 600 people here today to spend the day with the Cup with him. His family was all there. His teammates were all there. I think what really put a smile on his face was being able to share the Cup with everybody else. It tells you what kind of kid he is."
This wasn't the first time that Giguere had met Logan. Previously, Logan had joined the Avalanche for a skate for the day. That's when Giguere learned he had a big fan.
"He skated with us, and I ended up talking with him for a minute or two, and little did I know I ended up being his favorite player," Giguere said. "The Avs asked me if I could go spend a day with him and the Cup. It's something that you can't refuse. It's an honor to be able to be here and try to brighten Logan's day and make him forget for a few hours what he has to go through every day. I'm just honored that I was able to do that.
"As a hockey player, we're put in a situation where sometimes people look up to you. If you take an hour or two of your day and do things like this, then it makes a whole lot of difference in a kid's life. It's just something that quite frankly we don't do enough. Sometimes we have to be reminded that we have been put in a situation where we can do that. It's just nice to be able to do that."
As rewarding as it was for Giguere, the experience will be something that lasts a lifetime for Logan. Giguere gave Logan a signed Avalanche jersey as well as a stick signed by the whole team. Oh, and pictures, lots of pictures. He will be able to savor the day that he paraded around with the Stanley Cup as a champion.
"Hopefully, one day he'll get to do it by winning the Cup himself," Giguere said. "That would be my wish for him, for sure."