Sidney Crosby leads Penguins to best performance of postseason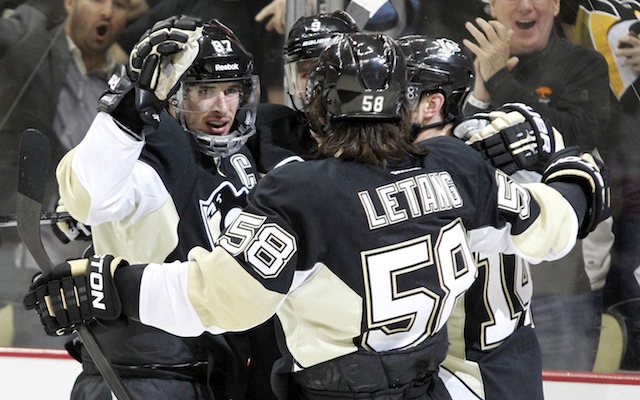 More NHL Playoffs: Scores | TV Schedule | Expert Picks | Odds | Mock Draft | Rumors
PITTSBURGH -- Even though the Pittsburgh Penguins entered Friday's game against Ottawa having won five of their first seven playoff games, they didn't always look all that impressive doing it.
There was a lot of surviving, defending, and trying to hold off a relentless attack from an aggressive Islanders team in the first round, while they relied almost entirely on special teams and goaltending in Game 1 against the Senators. They didn't quite look like the Stanley Cup favorites everyone expected them to be when the playoffs began, and on most nights were getting outplayed at even strength.
Until Friday.
Even though the 4-3 score in their Game 2 win might not accurately show it, this looked more like the Penguins team that was expected to show up in the playoffs. It was their captain, Sidney Crosby, leading the way with his second career postseason hat trick that included a highlight reel goal in the first period as he went right through former Norris Trophy winning defenseman Erik Karlsson on his way to the net.
"I think we played a pretty fast game," Crosby said. "I thought we did a lot of good things. We gave up a few chances, probably some that we didn't want to give up, but for the most part we played at a pretty high pace and were able to get some offensive zone time."
The last part of that answer was the key for Pittsburgh.
While Crosby was turning in one of his classic postseason performances, the rest of the Penguins were also picking up their game and playing what was perhaps their best game of the playoffs. After getting badly outshot and at times badly outchanced over the previous seven games, everything started to turn a little bit in their favor on Friday.
And that's always a good sign for a team when it can carry the play at even strength and not have to rely entirely on its goalie or power play, which is what had been happening in Pittsburgh over the past couple of weeks.
The Penguins tried to write off the lopsided shot totals as them "keeping everything to the outside," which is the rallying cry of every team that gives up a ton of shots. And while there may have been a lot of shots that the Penguins were able to limit to the perimeter of the offensive zone, they were still giving up a large number of scoring chances and asking their goaltenders to do to much.
If you're giving up 35 or 36 shots a game like the Penguins were, there's a chance your team is doing something very wrong defensively, and the numbers illustrated it.
Over their first seven playoff games the Penguins were outchanced 123-110 overall and 96-82 at even strength (scoring chances numbers provided by Corey Snajder at the ShutdownLine and Senators blog 6th Sens). Needless to say, those are some ugly numbers.
But on Friday the Penguins were able to flip the script on Ottawa and were all over the Senators right from the drop of the puck, creating all sorts of havoc in their zone, forcing turnovers, generating chances, and chasing goalie Craig Anderson from the game just three minutes into the second period.
Perhaps the most impressive part of Pittsburgh's win on Friday was the way they were able to completely suffocate the Senators offensively, especially in the third period as they protected their one-goal lead. No team in the NHL averaged more shots per game than Ottawa's 33, and on Friday the Penguins held them to just 22. As the Senators attempted to come from behind in the third period and in an effort to tie the game, they were able to generate just two shots on goal over the final 10 minutes of regulation.
The story for Pittsburgh over the past four games had been the rock-solid play of Tomas Vokoun coming off the bench to replace Marc-Andre Fleury. And while Vokoun made some big stops on Friday, it clearly wasn't his best performance of the playoffs. But this is how you get out of a game with a win when your goalie doesn't have his best stuff. You dominate the puck, you control possession, and you don't allow the other team to get out of its own zone.
The Penguins did all of that on Friday.
"Yeah, they're going to get some chances," Penguins forward Jarome Iginla said. "But tonight I thought we put a lot more pressure on them, played with a lot more zone time, and had some great scoring chances. We gave up a few, a couple of point-blank chances, but [Tomas] Vokoun was there when we needed him, but it feels good."