Kings give Twitter account to radio host, have to apologize
More NHL Playoffs: Scores | TV Schedule | Expert Picks | Odds | Mock Draft | Rumors
The Los Angeles Kings have one of the most popular Twitter accounts in the NHL (and perhaps all of professional sports) for its humor and the way it pretty much changed the way official team accounts operate. Instead of just Tweets to press releases and play-by-play updates of games, there's quite a bit of personality to it.
For some reason, the powers that be decided to hand the keys over to a local morning show host by the name of Kevin Ryder and the whole thing pretty much blew up in their faces, mainly because of this since-deleted Tweet that joked about Anze Kopitar being "sexually assaulted" during the second period.
You can delete it, but the Internet never forgets (screenshot via @seangentille).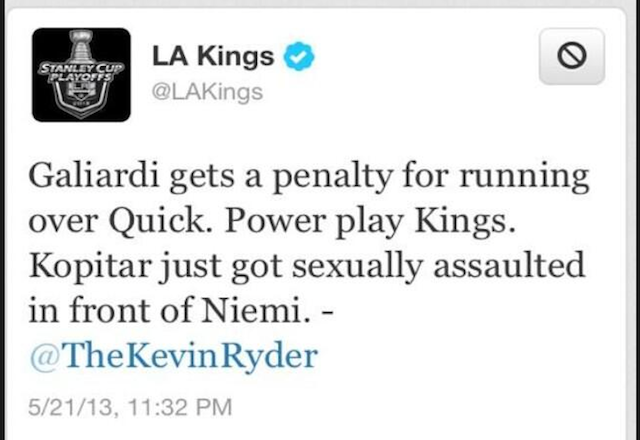 There was also a photoshopped picture of Sharks forward Joe Pavelski wearing a dress, and another Tweet that referred to a "bulsh-t call" from the officials on Dustin Penner's disallowed goal.
So, yeah, that probably could have gone better.
The Kings eventually issued an apology.
We apologize for the tweets that came from a guest of our organization. They were inappropriate and do not reflect the LA Kings.

— LA Kings (@LAKings) May 22, 2013
What's incredible is this seemingly innocent Tweet just before Ryder took over.

Talk about foreshadowing.
So was this the night everybody became tired of the Kings Twitter account?
Or was this just further confirmation that morning show radio hosts often times say dumb, idiotic things in an effort to provoke a reaction and aren't really funny?
The other lesson here: maybe it's not a good idea for a professional sports team to give said radio show hosts a voice through their social media accounts.