James Neal starts to get some results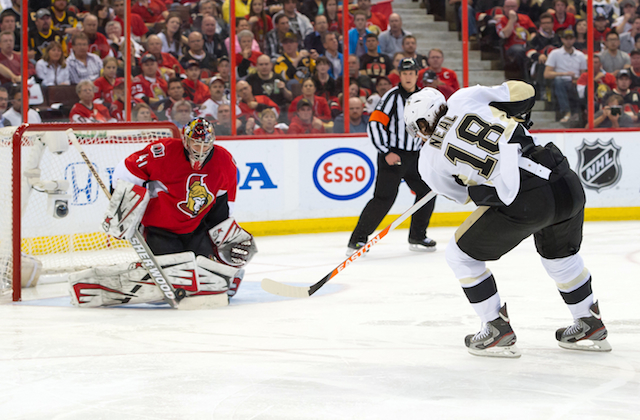 James Neal finally started to get some results in Game 4. (USATSI)
More NHL Playoffs: Scores | TV Schedule | Expert Picks | Odds | Mock Draft | Rumors
If you watched every Penguins game this postseason and didn't look at any goal or point totals, you might have had a hard time believing that James Neal entered Wednesday's game with just one goal and two assists in the team's first nine games.
Just by watching him, you could see that he was certainly playing better than those numbers would have indicated. The effort was there, the chances were there, and he was doing the right things. He was getting his chances, and he had been by the Penguins' best possession player (by a wide margin) entering Game 4.
But he was getting absolutely no results to show for his hard work and strong play. Sometimes that happens, even to the best players. It's a fast, difficult game and sometimes no matter how hard you work and how well you play the puck isn't always going to find the back of the net for you.
That's kind of what had been happening to Neal.
In Sunday's Game 3 loss, for example, he was one of Pittsburgh's best forwards and seemed to do his part to generate more quality chances than any other player on the team but couldn't find a way to sneak anything behind Ottawa goalie Craig Anderson.
Even in the first period on Wednesday that bad luck continued when he fired a quick snap shot off the post to the left of Anderson.
But then later in the period the floodgates finally started to open for Neal when and he started to get rewarded for his play. After the Senators scored a shorthanded goal to open the soring, Neal got Pittsburgh on the board off of a faceoff, and then started their third period scoring binge with a power play goal to give Pittsburgh a two-goal lead.
They would add three more goals over the rest of the period on their way to a blowout win.
The fact that Neal is starting to get going, and now finding the back of the net, is nothing but good news for Pittsburgh. Perhaps even better news is that his line of Evgeni Malkin and Jarome Iginla played what had to be its best game in ... well, actually it was probably the best game that trio has ever played together since they've all been in the lineup.
That group has been a constant topic of debate in Pittsburgh as no matter what alignment they go with (Neal on the left and Iginla on the right, or Iginla on the right and Neal on the left) it moves one of the wingers out of their comfort zone positionally and where they might be able to play their best hockey.
The results haven't always been pretty, and the chemistry hasn't always looked like it's been there, even as the Penguins continued to make it work when there might have been different line combinations that could have put people (like Iginla and Neal) into their best positions.
Keeping the discussion going is that the Penguins, when all of their top forwards are in the lineup, have been very reluctant to break up their top line of Sidney Crosby, Chris Kunitz, and Pascal Dupuis, and for good reason. That line has been one of the best in the NHL this season (and continues to be in the postseason) and you know they're going to score.
But the second line hasn't always looked comfortable, even though Malkin and Iginla have been putting up a ton of points on their own.
On Wednesday this was Pittsburgh's best line as the trio combined for 17 shots and four goals (two each from Iginla and Neal). When they were on the ice together during 5-on-5 play they outshot the Senators 12-6 and outscored them 2-0.
Iginla and Neal also both added goals on the power play.