Jonathan Quick's 2013 postseason is very similar to his 2012 postseason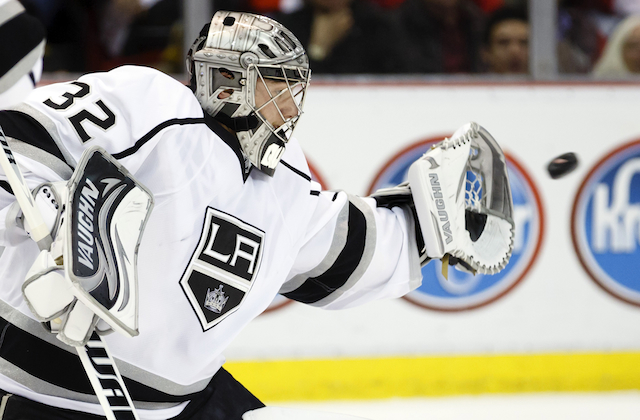 More NHL Playoffs: Scores | TV Schedule | Expert Picks | Odds | Mock Draft | Rumors
Based on the way that he played last year -- both during the regular season and the postseason -- Jonathan Quick's performance for the Los Angeles Kings during the 2013 season had to be viewed as a little bit of a disappointment. Whether it was his recovery from offseason surgery or just a standard regression statistically, he didn't look to be anything close to the same goalie that he was in 2011-12.
Should it have been a cause for concern going into the playoffs? As it turns out, no. No, it shouldn't have been.
Once the playoffs started -- and once he overcame that silly overtime gaffe in Game 1 against St. Louis -- Quick started to pick up where he left off last postseason, when he took home the Conn Smythe Trophy during the Kings' Stanley Cup run. Not only is he picking up where he left off, his numbers through 11 games are nearly identical to what he did through 11 games during the 2012 postseason.
And both sets are pretty ridiculous.
Jonathan Quick first 11 playoff games: 2012 vs. 2013
Year
Games
Wins
Shots Faced
Goals Against
Save Percentage
Shutouts
2012
11
10
325
16
.950
2
2013
11
7
330
17
.948
3
Quick went on to finish last year's postseason with a .946 save percentage, the highest mark that any goalie has posted in a single postseason (minimum 10 games played) since save percentages have been tracked. He's on a similar pace this year.
So, in other words, he's pretty awesome in the playoffs.
When you combine his performance with the stacked roster playing in front of him, the Kings are going to be a problem for anybody that has to play them.