The Rangers have a lot of questions to answer this offseason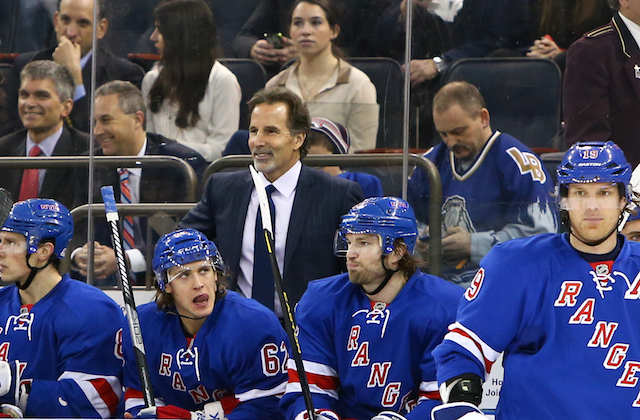 More NHL Playoffs: Scores | TV Schedule | Expert Picks | Odds | Mock Draft | Rumors
At the start of the 2013 season the New York Rangers were one of the most popular picks to represent the Eastern Conference in the Stanley Cup Final.
They were just two games away from reaching it last year and finally completed the Rick Nash trade over the summer that was supposed to give them the final piece of the puzzle to move on to the next level.
Unfortunately for the Rangers, once the season actually started nothing really went as planned.
The Rangers spent most of the year teetering on the playoff bubble before finally settling in as the No. 6 seed. But their Stanley Cup dreams came to a sudden end on Saturday with a 3-1 loss in Game 5 in Boston, ending their season in the Eastern Conference semifinals.
For a team that had its sights set on the Stanley Cup, that's obviously a pretty big disappointment and it leaves management with quite a few questions to answer this offseason.
Some of the bigger ones ...
Will John Tortorella be back?
When a team underachieves or doesn't reach expectations, the first person who always gets questioned (or perhaps even replaced) is the coach because, well, it's easier for a team to replace the coach than it is to bring in 23 new players.
Tortorella seems like the type of coach that will have a short shelf life wherever he goes as his style probably wears out after so long. And we may have reached that point in New York.
Although it wouldn't be fair to attach all of the Rangers' problems to Tortorella, it does seem a little disappointing that a team that has had a decent amount of offensive talent -- both in the form of veterans and young players -- has been so bad offensively the past couple of years. Somewhere over the years, Tortorella went from the "safe is death" coach that he was in Tampa Bay to a coach who seems to want a team full of players who will collapse around the net and block shots for 60 minutes -- which is pretty much the definition of safe.
-Brad Richards: To keep or to buy out?

Just a few years ago, Richards was the most sought-after free agent on the open market, and the Rangers came up with the winning bid, giving him a nine-year, $62 million contract.
Well, let this be a lesson to general managers who think the answer to all of their problems is in a 31-year-old free agent on a huge contract.
It's probably not a good idea.
Richards, who was having a terrible time in the postseason, was relegated to fourth line duty before finally finding himself in the press box as a healthy scratch for Games 4 and 5 against the Bruins. I don't think Richards is totally done as a hockey player, but his contract is going to be a drain on the Rangers.
He had a decent enough regular season and could probably still add some value to a team when they're not on the hook for the remainder of his albatross contract. If the Rangers decide to part ways with him with a cap compliance buyout, he could probably be somebody's Scott Gomez next season, a terribly overpaid player in Montreal, but a useful third-liner on a small contract in San Jose.
Either way, this contract is brutal for the Rangers and they have to figure out what's a better investment: Buying him out, clearing up cap space and paying him to play for somebody else, or keeping his contract and cap hit on the books to pay big money to a declining forward who's a shell of his former self.
What about Glen Sather?
Of course, just as it is in every organization, everything starts in the front office with the man responsible for assembling the team, and in this case it's Glen Sather.

Forget Tortorella or any of the individual players, if there's anybody who needs to have their performance scrutinized and put under the microscope it should probably be Sather. He is, after all, the guy who built the team through a series of bold trades and big contracts.
But did he set the organization up for long-term success or a constant state of mediocrity?
In recent years, Sather has handed out some of the NHL's worst contracts (Bobby Holik, Wade Redden, Gomez, and perhaps now Richards), potentially traded for another one in Nash (remember everything we said about Richards being a big-money player at the age of 31 and how he's declining? Nash could soon be entering that territory). And that's to say nothing of the trade-deadline decision to trade the most dynamic offensive player on his roster -- Marian Gaborik. Given how lackluster the Rangers' power play looked in the playoffs, they probably could have used somebody with Gaborik's skill on that unit.