Quest for the Cup: A Game 6 in Detroit that might feel like Game 7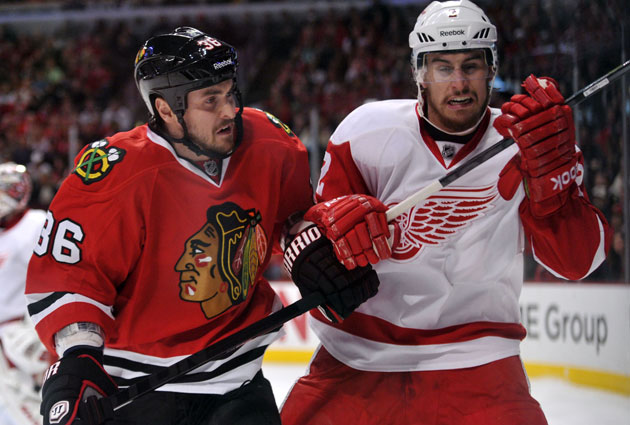 More NHL: Scores | Standings | Odds | Fight-O-Meter | League Leaders | Rumors
First star game of the day
Game 6 (3-2 DET), Chicago at Detroit, 8 p.m. ET (NBCSN)


It's just Game 6 of their series, but Monday night in Detroit might have the look and feel of a Game 7 for both teams.
For Chicago, it's kind of obvious: win or go home. They faced that scenario once already and came out with a tremendous effort in Game 5 in Chicago on Saturday night to win 4-1. This time, they will have to bring that act with them on the road and pull it off again in a building where they just haven't looked all that great so far.
For Detroit, it's a matter of closing the Blackhawks out now because this is their best shot. Even though the Wings already won a Game 7 on the road in Anaheim, they do not want to have to go back to Chicago for a true Game 7. If it gets to that point, you can't really like Detroit's odds much.
So, the time is now for the Wings.
"We'd like to take care of business," Wings forward Justin Abdelkader said. "We've just got to play desperate."
That's definitely something they didn't do in Game 5. The Blackhawks outshot Detroit every period, finishing with a final SOG total of 45 to Detroit's 26. Only one team looks like it was playing a desperate game with shot figures like that, and it wasn't Detroit. That Game 5 illustrates what could be waiting for a Game 7 in Chicago should Detroit let it get that far.
"The pressure is on them to eliminate us," Blackhawks forward Andrew Shaw said. "They kind of have our backs against the wall, and we're pushing back, and that makes us a dangerous team."
That's not to say the Blackhawks aren't facing any pressure, though. The curse that came with the blessing of that tremendous start to the regular season for the Blackhawks -- an NHL-record 24 straight games with a point beginning the season -- was that it increased already high expectations. The start made it so that anything short of a Stanley Cup Final appearance was going to feel like a letdown, and really then the only way to truly make the season feel like a success is by winning the Cup.
While I don't believe the players are consciously thinking of that, they know they're a team capable of winning the Cup. That kind of pressure can weigh on a team in tight moments, too. Trying to fulfill those expectations and achieve their goal won't be that far out of mind for some of them, especially if things aren't going their way.
In Game 6, the stakes won't really be as high as a true winner-take-all Game 7, but it's going to feel pretty close to it for both teams.
Snap shots
• Kings forward Jarret Stoll is feeling better, but he's still not ready to return from his concussion for Game 7 against San Jose on Tuesday night. (LA Times)
• Just in case you thought as much, Tomas Vokoun is not an overnight sensation. (Pittsburgh Post-Gazette)
• For the Bruins, it's all about depth. Their ability to run four lines has been a big part of their success to this point. (CSN New England)
• The Avs will take Seth Jones No. 1 overall in the draft, right? Adrian Dater isn't so sure after watching Nathan MacKinnon and Jonathan Drouin in the Memorial Cup. (Denver Post)
• No surprise that Don Cherry isn't behind Hockey Canada's ban on checking at the pee-wee level, telling Hockey Canada "You'll be sorry." (Globe and Mail)