Penguins should get younger, faster in Game 3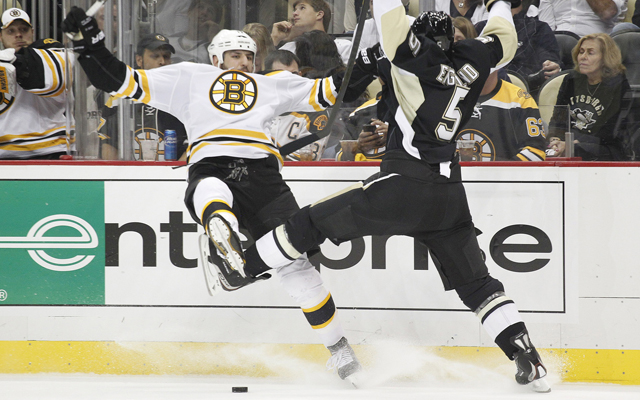 More NHL Playoffs: Scores | TV Schedule | Expert Picks | Odds | Mock Draft | Rumors
PITTSBURGH -- Penguins coach Dan Bylsma made some changes before and during his team's Game 2 loss against Boston on Monday.
He removed Tyler Kennedy and inserted Joe Vitale up front in an effort to improve their dismal showing in the faceoff circle.
He benched struggling defenseman Mark Eaton in favor of the equally struggling Deryk Engelland.
After Tomas Vokoun was abandoned by his defense in the first period he did what some felt he should have done before the game even started and went back to Marc-Andre Fleury.
None of these moves worked, and it might be time for Pittsburgh to go back to the drawing board before Game 3 starts on Wednesday night in Boston.
And none of his changes should include his starting goalie (Vokoun). The Penguins had a lot of problems on Monday night but their goaltender probably wasn't even in the top 10. If you think otherwise and think Monday's game was a commentary on Vokoun's ability to win in the playoffs and whether or not it's possible for the Penguins to win with him, you should just turn in your hockey fan card right now.
It's almost as if the Penguins came into this series with the mindset that they have to try and out-physical the Bruins. We started to see it late in the second period of Game 2 and into the third period. It continued through the early part of Game 2 they seemed to be playing out of control, almost as if they were going out of their way to go for the big hits at every chance.
It didn't work. At all.
The Penguins added four veterans at the trade deadline in a series of moves that were supposed to make them the team to beat (I had concerns about the Douglas Murray and Brenden Morrow acquisitions). Instead, at times this postseason they appear to have made them significantly slower and less skilled, something that the Bruins exploited badly on Monday.
What the Penguins need in Game 3 is more speed and skill.
The Penguins defense has had problems handling fast forwards this season, and especially in the playoffs, and has been unable to consistently move the puck up the ice. This was obvious in Game 2 when they tried to pair Engelland with Douglas Murray. Engelland has played only sparingly this postseason but has struggled mightly when in the lineup. Entering Monday's game Pittsburgh had been outscored 5-1 at even strength with him on the ice and attempted just 35 percent of the total shot attempts.
He wasn't much better on Monday.
Instead of adding another big body that can bang people around on the blue line the Penguins need another puck-mover. They have one -- and a very good one -- sitting in the press box in Simon Despres. The biggest problem Murray had in San Jose was that the Sharks were pairing him up with an equally immobile veteran defenseman in Brad Stuart. The two of them together was a recipe for disaster and it was a big reason why the Sharks had no issue parting ways with Murray in the middle of a playoff race for a couple of draft picks. When you pair him with a guy like Engelland you're just recreating the same problem San Jose had.
A puck-mover like Despres could be the answer on that third pairing. And if they don't want to go that route, putting Despres into the lineup with Kris Letang, a pairing that worked extremely well for the Penguins during the regular season when they used it, could allow them to slide Matt Niskanen down into a third-pairing role alongside Murray where he might be better suited. It seems as if the more Niskanen plays, the more he struggles. He's a great third pairing guy. He's a bit overmatched in the top four.
Up front there's even more problems where veterans Brenden Morrow and Jarome Iginla just haven't had the impact that was expected from them.
Iginla has been putting up points, but just hasn't looked comfortable for the majority of the postseason trying to fit onto a line with Evgeni Malkin and James Neal. Morrow, once one of the better power forwards in the NHL, at this point is simply a veteran leader that brings a physical edge to the lineup.
Leaders and physical play are great. But without skill to back it up it's not going to get help your team.
For as crazy as it might be to say about a team that's been averaging more than four goals per game in the postseason to this point, what the Penguins need in the lineup right now is more skill.
And speed.
It might be time for Beau Bennett to get another look in the lineup. He started the postseason in Pittsburgh's lineup, even scoring its first goal of the playoffs against the Islanders, and has never really looked out of place in any role the Penguins have given him. He has great speed, a fine set of hands to create plays with the puck, and is going to be counted on to be a key part of the Pittsburgh lineup going forwards.
Why not make his time now?
The question is whether or not they will do it.
Given the way Bylsma typically constructs his linep the answer is probably no.
Bylsma is an excellent coach, probably one of the best in the NHL, but his biggest flaw seems to be the same one that nearly every other coach in the league has -- too much of an emphasis on experience and toughness over skill, and a fear of playing young players in big situations. If he had players like Torey Krug, Tyler Toffoli, or Brandon Saad on the roster I'm not sure they would be getting the same type of playing time they currently are for their respective teams, and would instead be banished to the press box where Despres and Bennett currently are.
The Penguins aren't down in this series because they don't have enough grit and toughness to match up with the Bruins.
The problem is they're relying on too much toughness.