Quest for the Cup: Can the Penguins make it a series in Boston?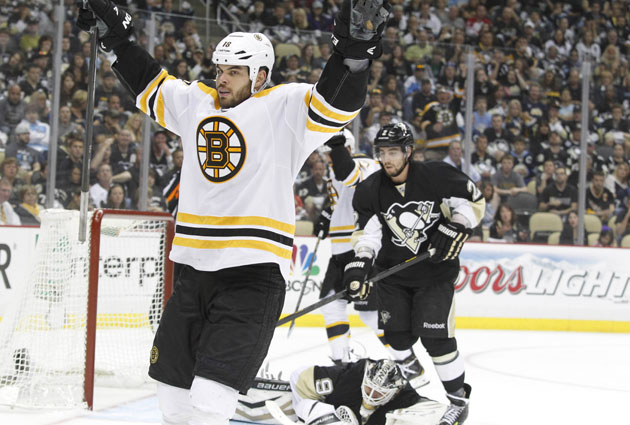 More NHL: Scores | Standings | Odds | Fight-O-Meter | League Leaders | Rumors
First star game of the day


Game 3 (2-0 BOS), Pittsburgh at Boston, 8 ET (NBCSN)
The Bruins and Penguins take their series to Beantown with Pittsburgh still licking its wounds from the first two games back in the Steel City.
In the first two games of the series the Bruins didn't only look like the better team, they looked like the Canadian national team and Pittsburgh was Norway, that's how much better they were. And that was on the road, no less.
It leaves the Penguins with little choice but to re-examine their approach because very clearly what they were doing in Pittsburgh wasn't working. The Bruins were eating them for lunch. Coach Dan Bylsma said Wednesday Tomas Vokoun would start again over Marc-Andre Fleury and indicated there will be changes coming to the lineup.
"We have to, as a group and as lines and as D pairings, we have to get back to playing our game," Bylsma explained. "We have to get back to playing good defensive hockey, we have to get back to playing get away from the puck, and that's got to happen throughout our lineup, and I think you'll see some changes in our lines and a few guys being added to the lineup to do so."
To be honest, it probably doesn't matter what the Penguins do with the lineup if they continue to get awful performances from their star players, namely Sidney Crosby and Evgeni Malkin. Not only have they been absent so far in the two games of this series but they have been plain bad, playing some of their worst games in their NHL careers (we can say that because typically they have such a high standard of play it's so striking when it's far the other direction).
With the way things have gone so far it seems like the Bruins' biggest foe is complacency as much as it is the Penguins. Especially with how good home teams have been in this postseason (the first two games here not withstanding) it already feels like this series is done but the B's have two games left to win. So will they take the 2-0 lead with two home games on the way for granted?
"Definitely not," Shawn Thornton said. "These next games will be a lot tougher, I'm sure. I think these guys are a very dangerous team. We've seen them score a lot of goals, so we're a long ways from where we need to be."
Pittsburgh being in this hole means there is little room for error and they have to show a desperation level that wasn't there in the first two games. While the series isn't done yet, if the Penguins can't put on a better show in Game 3 it will feel like the rest is just a formality. If the Penguins have any fight in them you should see it coming out now.
Even with that, though, is it enough to make a dent in the Bruins? Boston has been on the absolute top of its game, controlling play in every aspect so far. If Boston can continue to play its game then it's going to be tough for the Pens to make a dent.
One of the many reasons the Penguins have scored but one goal in two games is the fact that they have hardly had any attempts. The puck has been controlled by the Bruins. Consider that in a game the Bruins won by five, they still outshot the Penguins 29-27. Typically when a score gets out of hand, the trailing team gets more shots but not Monday.
That fails to even acknowledge that the Bruins' netminder, Tuukka Rask, has been exceptional. Even if the Penguins can get through the Zdeno Chara-led defense, they still have to beat the final line of defense in Rask.
The odds are stacked against the Penguins and if they stand any chance of coming back in this series, it must begin with a win in Game 3 in Boston.
Snap shots
• The NHL is looking at Duncan Keith's high stick to Jeff Carter's face in Game 3 last night. (@DrosenNHL)
• Hockey is back on the cover of Sports Illustrated trumpeting the fact that the Stanley Cup playoffs are the best. Well duh. (SI.com)
• While also unveiling their new logo and uniforms, the Stars announced that they will retire Mike Modano's No. 9. (Dallas Morning News)
• The Washington Capitals continue to get nowhere on an extension with center Mike Ribeiro, but will they have room? (CSN Washington)
• The TSN hockey crew made another video, this time with a song on everybody's favorite penalty, the puck over the glass.