Blackhawks get by in Game 4 without Duncan Keith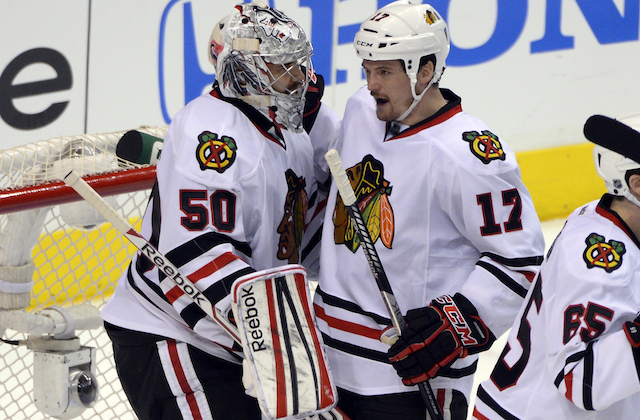 More NHL Playoffs: Scores | TV Schedule | Expert Picks | Odds | Mock Draft | Rumors
Having to play Game 4 of the Western Conference finals without Duncan Keith -- suspended for his Game 3 slash on Jeff Carter -- was going to be only part of the problem for the Chicago Blackhawks on Thursday night.
The other part was that they were going to have to rely on Sheldon Brookbank to replace him in the lineup.
Nothing personal against Brookbank, as he has put together a solid career for himself appearing in more than 300 NHL games, but the simple fact is he was going to be in over his head against the defending Stanley Cup champions in a conference finals game.
Once the puck dropped on Thursday night it became pretty obvious this was going to be a problem for Chicago.
Incredibly, it still didn't prevent the Blackhawks from going into Staples Center and handing the Kings their first home loss of the postseason with a 3-2 victory to take a commanding 3-1 series lead.
Given that they were playing with pretty much five defensemen for the night, that's pretty impressive. And why were they playing with just five defenseman? Because Brookbank logged only 6:50 of ice time and struggled mightily in all of them.
He played only five shifts during the final two periods, and when he was on the ice at even-strength, bad things were happening for the Blackhawks. They were outshot 8-2, outscored 2-0, and Brookbank seemed to be at the center of all of it. (Just for comparisons sake, in the even-strength minutes played without Brookbank, they outshot LA 22-10 and outscored them 3-0).
After the second goal the Kings scored against the Blackhawks early in the second period, coach Joel Quenneville gave him only four more shifts the rest of the night and shortened his bench. And the short-handed Blackhawks still managed to take over and take complete control of the game, as more importantly, the series.
Following Marian Hossa's go-ahead goal just a minute into the third period, Chicago completely smothered the Los Angeles offense and allowed the Kings to record only two shots on goal, including only one during the final 15 minutes. That included a power-play opportunity with less than five minutes to play in regulation where the Kings attempted only two shots (both were blocked) and managed to give up a short-handed chance to Jonathan Toews.
In the end, it was a pretty incredible effort by the Blackhawks without their best defenseman, on the road, against the defending champs.
To be able to put together such a complete effort without such a key player is a pretty big statement by the Blackhawks.
It's also perhaps a knockout punch to the Kings.