Five for Fighting: Five reasons the Penguins are losing to Boston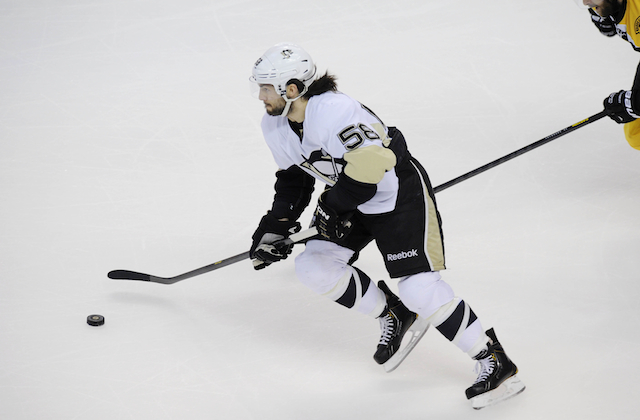 More NHL Playoffs: Scores | TV Schedule | Expert Picks | Odds | Mock Draft | Rumors
5. The approach: This was especially true in Games 1 and 2, not so much in Game 3, which oddly enough just happened to be their best game of the series. The Penguins opened the series trying to play an overly physical style of hockey, almost as if they were trying to prove they could out-tough the Bruins. It did not work, the Bruins took advantage Pittsburgh's at times out-of-control game and dismantled the Penguins with skill. When Pittsburgh tries to play the way it did in Games 1 and 2 it almost always gets ugly for them.
4. They made themselves too old at the trade deadline: Remember all of those trade deadline acquisitions that were supposed to put the Penguins over the top? Yeah. About that, they're not exactly working out as planned. At the time, I liked the Jarome Iginla and Jussi Jokinen moves and thought the Brenden Morrow and Douglas Murray additions were unneccessary. As it turns out, just about none of them working right now and instead of making them an unstoppable force have made them older and slower. The Penguins finally inserted Beau Bennett into the lineup in Game 3 and he was one of their best forwards, generating five shots on goal, numerous scoring chances, and was on the ice for seven scoring chances at even strength. He's only played 52 minutes of even-strength hockey this postseason but the Penguins have outchanced their opponents 16-9 in that time and outscored them 4-1. It's insane that this guy doesn't play more. He should be getting more ice time than several veterans playing ahead of him, including all of the players acquired at the trade deadline.
3. Kris Letang and the defense: Kris Letang is a Norris Trophy finalist this season. He has not played like a Norris Trophy finalist in the playoffs, and especially in the conference finals against Boston. No player has been on the ice for more goals against this postseason than Letang and his decision making with the puck has been brutal. Defense has been a problem spot for the Penguins for much of the season with Letang and Paul Martin being their two most reliable players during the regular season. In the playoffs it's only been Martin.
2. Boston is shutting down the power play: Pittsburgh has not played well at even-strength during the postseason, bleeding shots and scoring chances against. The Penguins enter Game 4 on Friday an even goal differential (32-32) during 5-on-5 play. So how they have advanced as far as they did? The goaltending of Tomas Vokoun has helped, but also the power play. Well, Boston has had no trouble shutting down Pittsburgh's attack on the man advantage and has completely blanked its power play on 12 attempts. When you're struggling at even-strength and not scoring on the power play, well, that's when you only score two goals in three games and are down 3-0 in a playoff series.
1. Tuukka Rask: Even when the Penguins are able to generate some sort of offensive pressure and get a quality scoring chance, Boston goalie Tuukka Rask has been nearly unbeatable. He has a .940 save percentage for the postseason and has been even better in this series. He's had some luck on his side with the Penguins hitting a number of goal posts behind him, but he's still been the best player on the ice in the series.