Dallas Eakins named Edmonton Oilers head coach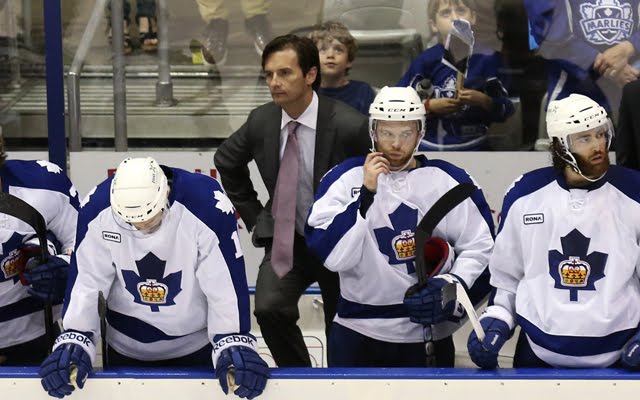 Edmonton Oilers general manager Craig MacTavish named Dallas Eakins the team's new coach Monday in a press conference. Eakins was introduced just two days after Edmonton announced the firing of Ralph Krueger.
The Oilers are giving Eakins, 46, his first head coaching job in the NHL after seven years in the Toronto Maple Leafs organization, including the last four as head coach of American Hockey League affiliate Toronto Marlies.
The Florida native has had a track record of helping young players develop in his time with the Marlies, with Nazem Kadri and Jake Gardiner among his prized pupils. That's why Eakins has been the hottest name for openings at the NHL level in recent weeks.
Eakins reportedly interviewed with the Dallas Stars and Vancouver Canucks before being contacted by the Oilers, who until Saturday, didn't have a head coach opening. Things moved rather quickly.
Eakins said in his press conference he was caught completely off guard when he was approached by Edmonton.
The Oilers obviously saw an opportunity to get a coach to help develop a young core of potential stars like Taylor Hall, Jordan Eberle, Ryan Nugent-Hopkins and Nail Yakupov.
MacTavish explained that his experience coaching against Eakins in the AHL two years ago when the current Edmonton general manager was with the Chicago Wolves factored heavily into his decision to hire Eakins.
The firing and hiring of a head coach represent the first two major moves made by MacTavish in his new capacity in the Oilers organization. Going with a rookie coach on a young team could prove risky, but there's a reason most teams with an opening showed interest in Eakins.
This very well could be a home-run hire, and with all of the youthful talent on the Edmonton roster, it has to be. There's a very wide window of competitiveness for the Oilers if their young core is able to meet its potential. That will be among Eakins' biggest challenges right away but will also have to be his biggest success if the Oilers are to get to the next level.