2013 NHL Awards: Alex Ovechkin wins third Hart Trophy as MVP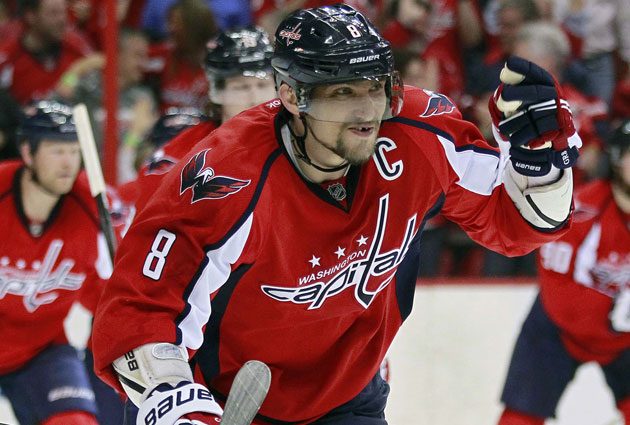 More NHL Playoffs: Scores | TV Schedule | Expert Picks | Odds | Mock Draft | Rumors
CHICAGO -- A season of change for Alex Ovechkin led to a familiar finish: taking home the Hart Trophy as the league's MVP.
The Washington Capitals captain seemed to be going in the wrong direction in his career. For a few seasons in a row he saw his goal scoring and point production go down while his predictability went up. Then new coach Adam Oates came to Washington with a pretty radical idea; to flip Ovechkin to the right wing. It didn't work right away, but when it started to click, it really clicked.
In the last 32 games of the season, Ovechkin had 27 of his 32 goals and led the Caps on a second-half surge. Before Ovechkin woke up and started scoring like the player of old, the Capitals were sagging, all the way at the bottom of the NHL standings. In a short season, some had already begun preparing the obituary for the Caps before the calendar even hit March. Ovechkin's surge helped ensure that wouldn't happen.
Where Ovechkin really excelled was on the power play. He had 16 of his 32 goals on the man advantage for a Washington unit that was one of the best in the league. He had become a little predictable on the rush over the years but his one-timer always remained lethal and with Oates now guiding the power play, Ovi once again became the power-play ace.
It was a run that was reminiscent of the tear Corey Perry went on in 2010-11 to lead the Ducks to the playoffs and him to a Hart Trophy. The late-season surge sticking with people made all the more visible by the team's success.
The detractors, of which there were many, said that Ovechkin did the majority of his scoring against bad teams, a product of playing in a bad division. It's a lot easier to score against the Panthers, Lightning, Jets and Hurricanes than most of the rest of the conference.
This argument flew with some, but not all. In the end, Ovechkin beat out Sidney Crosby -- who was very clearly hurt in this race by his broken jaw -- and John Tavares. It was hard to ignore the optics of a player going on a tear, leading his team on a tear and from behind in the standings and into the playoffs. Using the old MVP argument of "if you take him away, where do they finish?" worked in Ovechkin's favor.
For the Russian forward, who already took home the Rocket Richard Trophy as the NHL's leading goal scorer, it's his third Hart Trophy, the first since the 2008-09 season. He is just the seventh player in league history to be named the MVP three times, joining Bobby Orr, Howie Morenz, Mario Lemieux and Bobby Clarke in the three-timer's club.
The top five in voting. As you can see, it was a tight win for Ovechkin.
Hart Trophy voting
Player
First place
Second place
Third place
Fourth place
Fifth place
Total
Alex Ovechkin
50
43
40
27
8
1090
Sidney Crosby
46
42
41
29
12
1058
John Tavares
38
38
33
29
21
919
Jonathan Toews
39
35
29
29
19
886
Sergei Bobrovsky
4
12
13
25
4
311