Joe Sakic says Avalanche considering taking forward over Seth Jones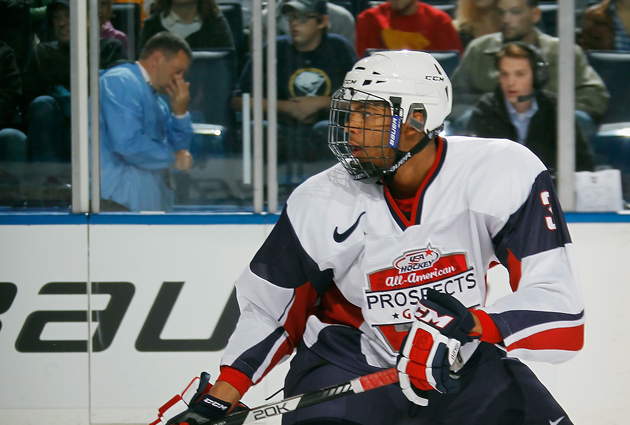 More NHL Playoffs: Scores | TV Schedule | Expert Picks | Odds | Mock Draft | Rumors
Seth Jones has been projected for months now to be the first player taken in the NHL entry draft later this month.
The Colorado Avalanche, having won the draft lottery, currently own the top pick. If we're to believe the words of vice president of hockey operations Joe Sakic, they might decide to pass on Jones if they end up keeping the pick.
Sakic told Adrian Dater of the Denver Post on Tuesday night that Colorado is leaning toward one of the top-three forwards in the draft -- Nathan Mackinon, Jonathan Drouin, or Alexander Barkov -- instead of Jones, a defenseman.
The question now becomes whether or not this is a smokescreen in an effort to drum up trade interest for the top pick, or if the Avalanche legimately believe they're better off picking one of the three forwards over Jones.
The possibility of trading the pick is something that has already been brought up in Colorado, and it's certainly something that's going to be explored as the draft approaches over the next couple of weeks. There was already one report that surfaced this week that had the Avalanche rejecting all three of Calgary's first-round picks for the No. 1 selection.
Not taking Jones would certainly be a bit of a surprise if Colorado holds on to the top pick, but it's not like the Avalanche would be getting a bad prospect if they went with one of the forwards. The history of the NHL draft also seems to suggest that forwards tend to be better picks at the top of the draft than defensemen, as it's sometimes a little easier to find elite defensemen with later picks than it is to find elite forwards.
The last defenseman to be selected No. 1 overall was Erik Johnson back in 2006. He was selected by the St. Louis Blues and has been a disappointment in the years that followed, especially since he was picked ahead of players like Jonathan Toews, Jordan Staal, Nicklas Backstrom, and Phil Kessel.
The Blues eventually traded Johnson to the Avalanche as part of the blockbuster deal that sent Kevin Shattenkirk and Chris Stewart to St. Louis.
Before Johnson you have to go back to the mid-90s when Ed Jovanovski, Bryan Berard, and Chris Phillips went No. 1 overall in three consecutive drafts between 1994 and 1996.