PHOTO: Antti Niemi pays tribute to Finnish war vets on new mask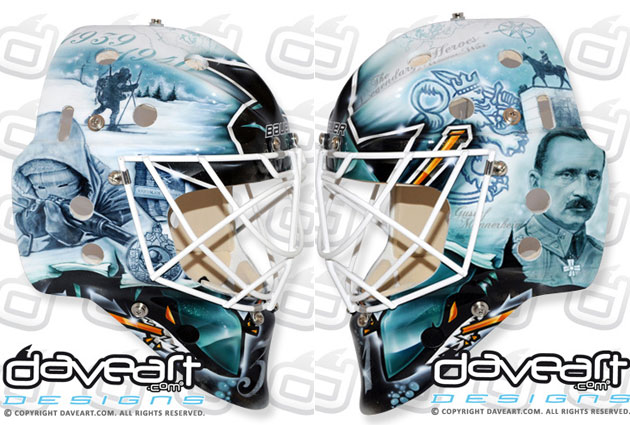 More NHL Playoffs: Scores | TV Schedule | Expert Picks | Odds | Mock Draft | Rumors
This NHL season isn't even officially finished yet, but San Jose Sharks goaltender Antti Niemi already has a new mask for next season.
In his new design, as done by goalie mask artist extraordinaire Dave Gunnarsson, Niemi pays homage to his heritage. The Vezina finalist hails from Finland, so he wanted to say something that expressed as much. Thus, a mask honoring the heroes of the Finnish Winter War.
From Gunnarsson on DaveArt.com:
The design is fully loaded with details and you can follow the story all over the mask. The upper part of the mask is created as a map of Finland, and the lower parts opens up and the Sharks theme comes out.

You find it all here. The amazing Finnish soldiers on one side skiing in their white winter uniforms. The Finnish chief commander Gustaf Mannerheim who later became the Finnish President is also a part of the design, just as the famous statue of him.

You also find the map of Finland, the Finnish lion, and also the Winter War Campaign Medal of 1939-1940 that was awarded to Finnish soldiers for fighting the invading Soviet Russian armies.
It's a striking mask, and it does transition pretty well from the shark on the front of the cage and the team's colors into the Finnish winter scene. Also on the mask, written on the top, is "Legendary Heroes of the Finnish Winter War" to make it clear what the mask is all about.
For those who need a little history lesson as to what the Finnish Winter War was all about, here you go. Worthy soliders to be remembered by Niemi.