Head of Flames mascot found floating in flooded Saddledome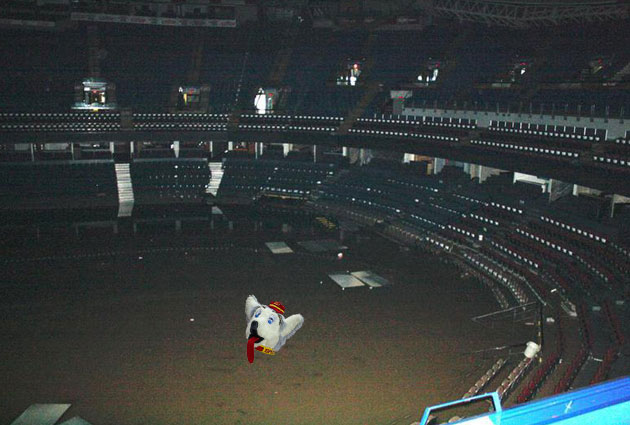 More NHL Playoffs: Scores | TV Schedule | Expert Picks | Odds | Mock Draft | Rumors
Poor Harvey the Hound. First he lost his tongue and now his head.
In a somewhat needed light moment to come out of the Calgary flood that left the Flames' Saddledome a mess comes this bit. In the cleanup of the dome, while pumping the water out, the workers found something floating in the murky water familiar to the Flames.
Harvey the Hound's head was found floating in the middle of the Saddledome today as crews pump out an estimated 300,000,000 gallons of water

— Eric Francis (@EricFrancis) June 24, 2013
Flames say bulk of 300 million gallons of water now pumped out of Dome. Oh, and the rest of Harvey the Hound's body still missing #yycflood

— Eric Francis (@EricFrancis) June 24, 2013
Worker who found Harvey the Hound's floating head while cleaning Dome: "It scared the hell out of me. His eyes staring at me was creepy."

— Eric Francis (@EricFrancis) June 24, 2013
That poor pup.
Clearly, the whole situation in Calgary is no laughing matter, and the damage to the Saddledome as well as many other buildings in the city is extensive. But sometimes it's good to have a sense of humor in tough times and, well, the image of Harvey's mascot head floating in the water is a great chance for it.
NOTE: In case it needs to be pointed out, the above photo is a crudely done Photoshop of Harvey's head in the flooded arena. The original image comes from the Flames' team site. Here is an actual image of the Harvey head that was found in the wreckage. You're welcome for the nightmare fuel.
Poor poor Harvey the Hound. #yyc #yycflood #abflood #saddledome pic.twitter.com/lZOQEMCxmC

— AMP Radio Calgary (@ampcalgary) June 24, 2013
UPDATE: Good news! It turns out that horrifically scary head that was found was the backup. The primary head used for Harvey is safely locked away elsewhere. So cancel the wakes scheduled to say good bye to Harvey; he still does have a head after all.
Whether it's the normal Harvey or the backup Harvey, he sure has taken his fair share of punishment over the years, hasn't he? Remember when current Oilers GM Craig MacTavish ripped out his tongue? Of course, you do. But that doesn't mean you can't watch it again.
On the serious side of things, the volunteers willing to help in Calgary have been plentiful, so much that they had to turn folks away. That's good news to come out of a bad situation, seeing the people come together in a tough time.
If you want to help, you can donate to the Alberta Floods Fund from the Canadian Red Cross. Replacing Harvey's mascot head will be a lot easier than what a lot of other people have to replace.
For more on the floods in Alberta, visit CBS News.