Three key stats about the Stanley Cup champion Chicago Blackhawks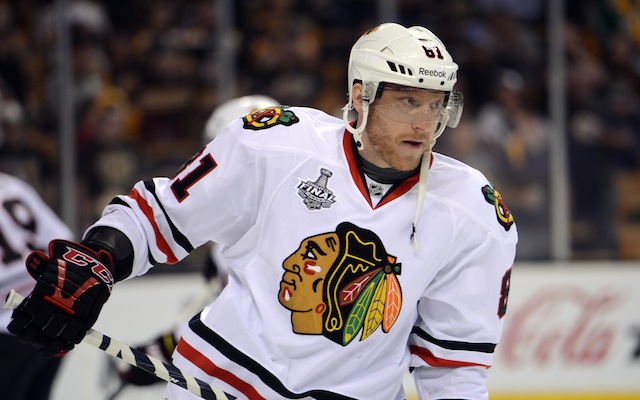 More NHL Playoffs: Scores | TV Schedule | Expert Picks | Odds | Mock Draft | Rumors
The Chicago Blackhawks are champions again, winning the Stanley Cup for the second time in four years. They were the best team in the NHL from start to finish during the season, roaring out of the gate by going 24 games without a loss in regulation, earning the Presidents' Trophy with the best record in the league and then continuing that domination through the postseason.
There are three key numbers that you should keep in mind about this team and what it takes to win in the NHL.
Those numbers:
1.) Hits: 840. This number put them last in the NHL. Repeat. Last in the NHL.
2.) Blocked shots: 652. This number was 21st in the NHL. Again, near the bottom.
It certainly puts a dent in the argument that you need to be physical, gritty and block your way to the Cup.
The reason the Blackhawks were so low in these two categories wasn't that they lacked grit or toughness or compete level or any other hockey-related buzzword that you can throw out there. It was because of the simple fact that they had more skill than nearly every other team and had the puck way more than their opponents. You can't block shots or hit people when you're the one always playing with the puck.
And finally ...
3.) Fenwick Close: 55.80. This number was second-best in the NHL. And this is the big one.
The important one.
Fenwick is a measure of shot attempts that counts shots on goal and shots that miss the net. It's a measure of puck possession. And when narrowing it to situations in which the score is close (hence the name, "Fenwick Close"), you're not allowing score effects to skew the possession numbers. Teams play differently when they're ahead or behind by two or more goals. When the game is tied or separated by just one goal, teams are playing more within their system. Their true talent is being shown.
When you see the Blackhawks with a mark of 55.80, that means they attempted more than 55 percent of the total shot attempts. That is a huge advantage and takes a lot of pressure off their goalies.
When the Blackhawks won the Cup in 2010, they finished first in this measure and were one of the most dominant possession teams in recent memory. Over the past six years, the Stanley Cup champion has finished in the top four of the league in this statistic four times. The only two that didn't were the 2010-11 Bruins, who won on the strength of Tim Thomas in net, and the 2008-09 Penguins, whose numbers were skewed by their early season struggles under Michel Therrien (after the coaching change, their possession numbers were among the best in the league).
The moral of the story: Puck possession hockey is winning hockey.