2013 NHL Draft: Top five goalies available; Zach Fucale ranked No. 1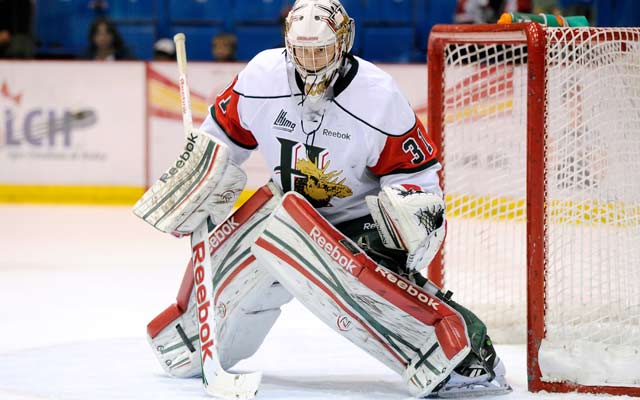 More NHL offseason: Rumors | Top 50 Free Agents | Top 50 Prospects | Mock Draft
The NHL Draft is Sunday in New Jersey, and here are my top five goaltender prospects available starting with Zach Fucale.
Top five goalies in NHL Draft
1. Zach Fucale -- Halifax Mooseheads (QMJHL) -- 6-foot-1, 181 pounds

Fucale is probably the best goaltender in the draft, and there might be a team that selects him in the first round, but I don't see enough there to pass over that many top-end skaters. Fucale's big benefit is that he has played a ton of hockey and is developing well as a result. There's still some moderate risk as there is with any goalie. He has a Memorial Cup to his name, but his .909 save percentage for a team that won 45 of his starts makes me a little leery on teams selecting him too high.

2. Tristan Jarry -- Edmonton Oil Kings (WHL) -- 6-foot-1, 183 pounds

Jarry's upside is what puts him ahead of just about every netminder available. He was not his team's primary goaltender last season, playing in just 27 regular-season games, but he put up some really strong numbers. Jarry won 18 games in those 27 appearances with six shutouts and a .936 save percentage that leap off the stats page. He has good-enough size, and scouts like his positioning and technique. Once Jarry gets more steady playing time, he could really flourish into a top prospect.

3. Juuse Saros -- HPK (SML-Jr) -- 5-foot-10, 181 pounds

Size is a moderate concern with Saros, as he doesn't have the height that NHL teams covet in a puck stopper. I think he'll be a middle-round pick, but I really like Saros' makeup and competitiveness. He's small but athletic and put up some strong numbers at both the World Under-18 Championship and with HPK in Finland's junior league. Finnish goaltenders are so well schooled, and Saros appears to be another in a long line of high-end netminders. He'll provide some team with tremendous value on draft day.

4. Eric Comrie -- Tri-City Americans (WHL) -- 6-foot-1, 167 pounds

Though his numbers weren't eye-popping this season, Comrie saw quite a bit of work and performed well. He has decent size and is a good athlete between the pipes. He's a very long-range prospect as so many goalies are, but he's only just beginning to tap into his potential. He could be a really exciting prospect down the line.

5. Philippe Desrosiers -- Rimouski Oceanic (QMJHL) -- 6-foot-1, 182 pounds

This year's goaltending class lacks the size of recent years, but it seems much deeper than last year's group. Desrosiers is one of those guys who might get overshadowed due to underwhelming numbers. However, he definitely put more of a spotlight on himself for Canada at the World Under-18 Championship, where he was named the tournament's best goaltender. He backstopped Canada to the gold medal with a sparkling .970 save percentage and 0.80 goals-against average in five starts. He could go earlier than expected after a performance like that.