Vote on Coyotes lease requested; prospective owner offers details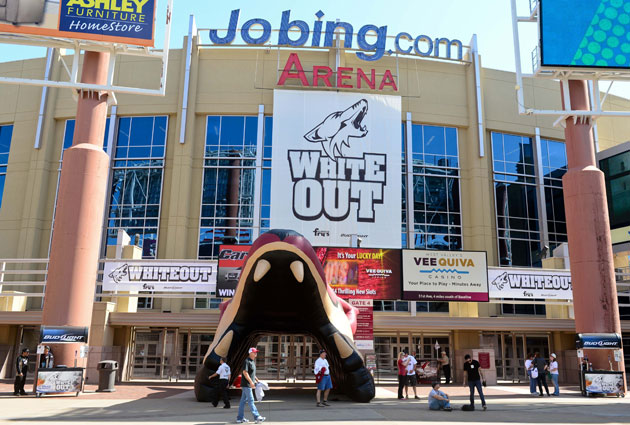 More NHL offseason: Rumors | Top 50 Free Agents | Top 50 Prospects | Mock Draft
The attempts to strike a Phoenix Coyotes lease deal between the city of Glendale, Ariz., and the Renaissance Sports & Entertainment group are coming down to the wire.
A vote for the Glendale City Council has been requested for Tuesday, which seems to be a deadline day in this now four-year ordeal with the Coyotes. What exactly they are going to vote on has been a big question mark. The city council has continued to try to hammer out a proposal to go to vote in an attempt to keep the team in Arizona under new ownership.
While the city has been unable to put forth any details of a deal, Anthony LeBlanc of RSE took it upon himself to do that on Thursday. Why? Partly because the NHL Board of Governors needed some information for their gathering on Thursday morning.
From Craig Morgan of Fox Sports Arizona, here's some of the RSE statement.
"The proposed agreement respects the City and Glendale's taxpayers and creates a path to financial success for the arena, the team and our investors," said LeBlanc. "Our deal represents the best value Glendale has had in an offer, and the most equity anyone has brought to the table in four years. The sooner this deal comes before Council for approval, the sooner we can aim for the Coyotes winning a Stanley Cup and get the arena headed toward profitability."

The revenue streams for Glendale negotiated within the RSE proposal include ticket surcharges on hockey and non-hockey events, parking proceeds, shared proceeds from naming rights and rent paid to the City for the Coyotes' use of the arena 41 nights a year. Projections estimate that revenues back to the City should total between $8.5 and $11 million annually. That leaves the net financial impact of the arena on the City between $4 and $6.5 million annually.

Glendale has budgeted $6.5 million to manage the arena this fiscal year.
The concern for Glendale in there is this: What if the Coyotes aren't drawing crowds good enough to reach those thresholds? While RSE is doing its best to eliminate the risks for the cash-strapped city, there are still risks.
If the vote does happen on Tuesday and the lease agreement is approved, then we should see the purchase of the franchise go through and the team's future in the desert secured. If it's shot down, then it could very well mean the league will act on a Plan B, which, at this point, is reportedly to move the team to Seattle. Either way, it appears to be nearing a resolution.
It's a big step to get at least some semblance of what the lease deal might contain since Glendale has thus far been unable to produce anything for public consumption.