Vincent Lecavalier to sign five-year deal with Flyers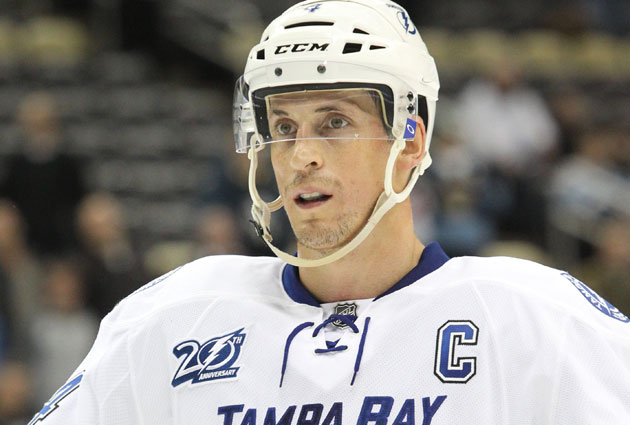 More NHL offseason: Rumors | Top 50 Free Agents
The top free agent on the market this summer has made his decision: Vincent Lecavalier is going to join the Philadelphia Flyers.
The Flyers made the announcement on Tuesday evening after reports came flying down. They didn't say how long the agreed upon contract is for, but Darren Dreger had the details on the contract.
5 years, $4.5 per for Vinny in Philly confirmed.

— Darren Dreger (@DarrenDreger) July 2, 2013
Oh, and by the way, there is also a no-move clause on the deal.
Lecavalier, bought out by the Lightning a few days ago, has been spending his time narrowing down his list of teams. Three teams most assumed would be at the top were the Canadiens, Red Wings and Stars. They were each eliminated and the Flyers were left standing.
Now Lecavalier is going to have a lot of money coming his way. He will continue to be paid by the Lightning as part of the buyout, that doesn't change. So he will be collecting two paychecks, not just one. Not a bad gig for him.
It's an interesting choice, that's for sure. The Flyers are a team that's right up against the salary cap as it is and they still need to do something in net where only Steve Mason is at the moment. Bringing in Lecavalier is going to require them to move some more salary out. The hottest name will likely be Braydon Coburn. He has been linked with the Oilers in a lot of speculation the past couple of days.
Wouldn't you know it, Coburn has an identical $4.5 million cap hit as well. He's a pretty ideal candidate.
No matter what exactly they do, the Flyers have to do something because GM Paul Holmgren still has some other things to address. Unless they are paying Lecavalier to put on some goalie pads, that's still an issue that will have to be attended to.
You can chalk this up to another big gamble from Holmgren. You can say a lot of things about him as a GM but you can't call him shy or timid. He's always making the big moves and this is another one. Incidentally, the deal itself isn't horrible at all, $4.5 million is a pretty reasonable cap hit for a player like Lecavalier. But he is 33 years old and the Flyers just committed themselves to another risky contract.
While it's true that this doesn't address Philly's biggest weaknesses -- scoring isn't the problem for them, it's been defending and goaltending -- it shouldn't prohibit them from doing more. It will just mean Holmgren will have to get creative. Holmgren is good with creative as he just proved. Yeah, we'll go with creative.