NHL Rumors: Boston Bruins reach out to Daniel Alfredsson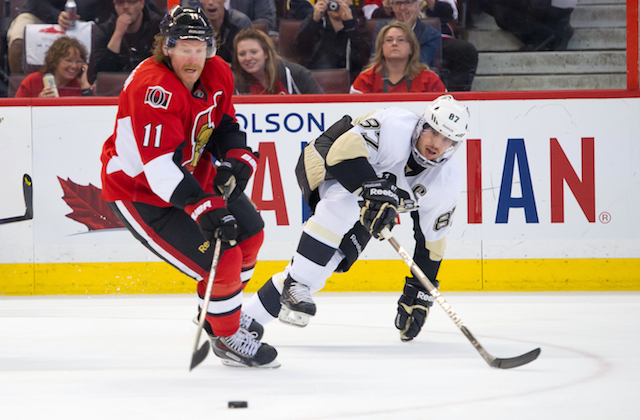 More NHL offseason: Rumors | Top 50 Free Agents | Top 50 Prospects | Mock Draft
It's hard to imagine Daniel Alfredsson suiting up for any team that isn't the Ottawa Senators. But now that the NHL's two-day interview period for free agents has opened, there's at least the possibility that it happens.
According to a report from ESPN's Pierre LeBrun, Boston Bruins general manager Peter Chiarelli has reached out to Alfredsson's camp.
Alfredsson, 40, has already announced that he's coming back for at least one more season in the NHL, and it's just been assumed that he would re-sign with the Senators, the only team that he's ever played for in the NHL. But with free agency starting this week, he's yet to sign a new conract, and teams are now free to come calling.
Granted, "reaching out" to Alfredsson's camp could simply be a casual phone call to see if there's even a touch of interest in joining the Bruins. I still think that once the season begins, Alfredsson will be back in Ottawa. But even the possibility of him joining another team has to make Senators fans just a little bit nervous.
Especially when that team is a divisional rival like Boston.
The Bruins have a need for another top-six forward this offseason since they're losing Nathan Horton to free agency and probably won't be re-signing Jaromir Jagr. Alfredsson isn't anywhere near the player whom he once was, but he still seemed to have a little bit left in the tank last season, scoring 10 goals to go with 16 assists in 47 games.