Jarome Iginla signs one-year deal with Boston Bruins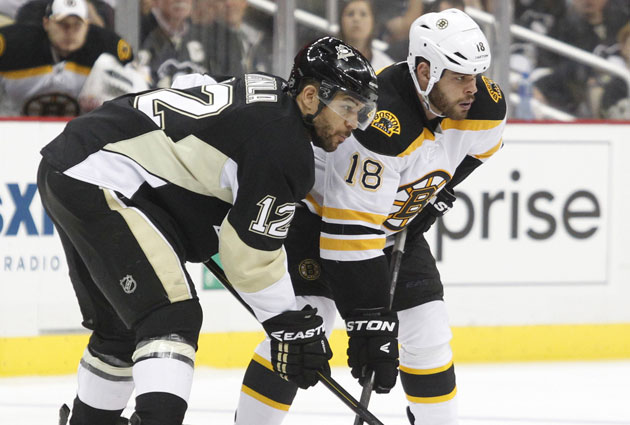 More NHL offseason: Rumors | Top 50 Free Agents | Buyout Tracker | Trades | Transactions
Some times you just can't make these things up. After trying to acquire Jarome Iginla at the trade deadline only to have him choose Pittsburgh instead, the veteran forward is now a member of the Boston Bruins.
The signing came late on Friday when most of the frenzy had begun to die down. The terms? One year, up to $6 million per Darren Dreger via Ryan Rishaug. Pierre LeBrun further broke it down with the bonuses available.
Iggy deal: $1.8 M base salary, $3.7 M games played bonus, $500,000 goal scoring/team playoff performance: total $6 M

— Pierre LeBrun (@Real_ESPNLeBrun) July 5, 2013
I mean, where do you even begin on this one? Perhaps with this: Awkwarrrrd.
The B's had an offer to Calgary a couple months ago they felt was good enough to get Iginla. Some reported it was a done deal. Then the Penguins swooped in, made an offer and Iginla, with a no-trade clause, said no to the Bruins deal to go to Pittsburgh. The Bruins weren't pleased with it, GM Peter Chiarelli held a press conference and vented, saying he thought he had Iginla. Instead the Bruins got Jaromir Jagr instead and swept the Penguins in the Eastern Conference finals.
Now Iginla is going to Boston. Talk about a mulligan.
Then there's the contract. At first when it was reported it was for $6 million, it sounded crazy. But seeing now how it's performance-based, it could be pretty nice for Boston. The base salary isn't bad and if he's hitting the milestones then it likely means good things for the Bruins.
Still, if he hits the games bonus then it turns into a pretty hefty hit for Boston. However he did have some success with the skill the Penguins had, finishing last season with a total of 14 goals and 19 assists. In 13 regular-season games with the Pens he had five goals, six assists. So he's not totally done. Plus, the deal is only one season so it can't hurt too much.
The Bruins had a pressing need, though, and Iginla fills it. They had a gaping hole in their top six at the right wing spot after Nathan Horton left and Jaromir Jagr was told he wouldn't be back. There weren't a lot of options as the day wore on for either side so the deal was done.
A deal made in free-agency heaven.