Canucks to host Senators at BC Place in 2014 Heritage Classic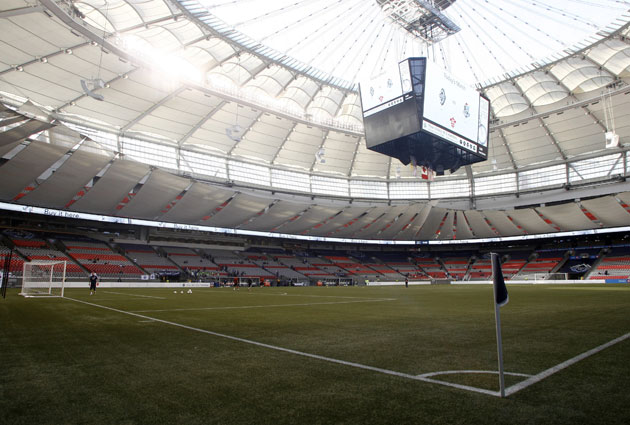 More NHL offseason: Rumors | Top 50 Free Agents | Buyout Tracker | Trades | Transactions
The NHL keeps announcing outdoor games for next season, the latest -- and presumably final -- one being made official on Wednesday.
The Heritage Classic will return to the NHL slate, joining the busy Stadium Series the league is trotting out next season. It will feature the Vancouver Canucks hosting the Ottawa Senators at Vancouver's BC Place. The game is set for March 2.
Weather is always a concern for outdoor games in the NHL, however, it shouldn't be a major threat in Vancouver as BC Place is a retractable-roof stadium. It serves as the home to the BC Lions of the CFL and the Vancouver Whitecaps in the MLS. It served as the Olympic Stadium for the 2010 Winter Games.
"With one of the world's great facilities as the setting, and one of the world's most scenic cities as the backdrop, the 2014 Tim Hortons NHL Heritage Classic at BC Place in Vancouver will honor hockey's Canadian heritage," NHL commissioner Gary Bettman said. "With the excitement, the entertainment, the competitiveness and the fun of this game, the Canucks and Senators will create special memories for hockey fans everywhere."
The outdoor craze really started with the Heritage Classic, games played between two Canadian cities. The idea came to the US in the form of the Winter Classic, something that has become an annual tradition on New Year's Day. It was said the Heritage was over after the Flames hosted the Canadiens in 2011 but the outdoor game craze is bringing it back.
Typically the outdoor games try to pit rivals against one another but there isn't a ton of history between the Canucks and Sens. That didn't stop the NHL from trying in its press release.
In 1915, the Vancouver Millionaires, the first professional hockey team on the West Coast, were crowned champions of the Pacific Coast Hockey Association. Meanwhile, in the rival league from the East, the National Hockey Association, which two years later became the National Hockey League, the Ottawa Senators were skating to a league title. Earlier, the two leagues agreed to play a series between the champions of each league with the Stanley Cup awarded to the victor. The Millionaires swept a best-of-five series to claim the Stanley Cup Championship.
After only 99 years, I'm sure that rivalry will still be burning next March.
Previously the NHL announced the Winter Classic for next season -- Toronto against Detroit in Ann Arbor, Mich. -- as well as a game in LA's Dodger Stadium with the two SoCal team; two separate games in New York's Yankee Stadium involving the metro area's three teams; and one at Chicago's Soldier Field between the Blackhawks and Penguins